Hollyland Mars X Transmitter – Gear Review
The great people over at Hollyland sent us a new transmitter package for us to check out; the Mars X. This piece of equipment was made specifically for the everyday filmmaker, designed for prosumers that don't have a massive equipment list to their name. In fact, you don't even need a video village or monitor for your clients, they connect with their iOS or Android devices! This means that this time around, it is a transmitter only system. You do not get a receiver as part of this package, which explains the price! It's a low cost, reliable piece of gear that does a good job transmitting up to 300′. 
Read on to find out our in-depth thoughts on how it worked for us. Be sure to check out more filmmaking articles including a review for the Mars 300 and Mars 400s for those of you who are cast and crew, sign up to get your free FilmLocal account!
Mars X Package Contents:
Transmitter
Cold Shoe 1/4″ – 20 Mount
Type C to Type A USB Cable
Storage Bag
Instruction Manual
Specifications:
Full HD 1080P Transmission
Upgradeable Firmware
Can Connect Up to 3 Devices
Collapsible Antennas
Smart Channel Scan (8 Channels)
OLED Display Screen
HDMI Port
Size: 50mm * 50mm * 28mm (L*W*H)
Weight: 122g
Power Consumption: <4W
Transmission Latency: <0.07s
Transmission Range: 300′
Battery Life: 1 Hour
Price: $179 USD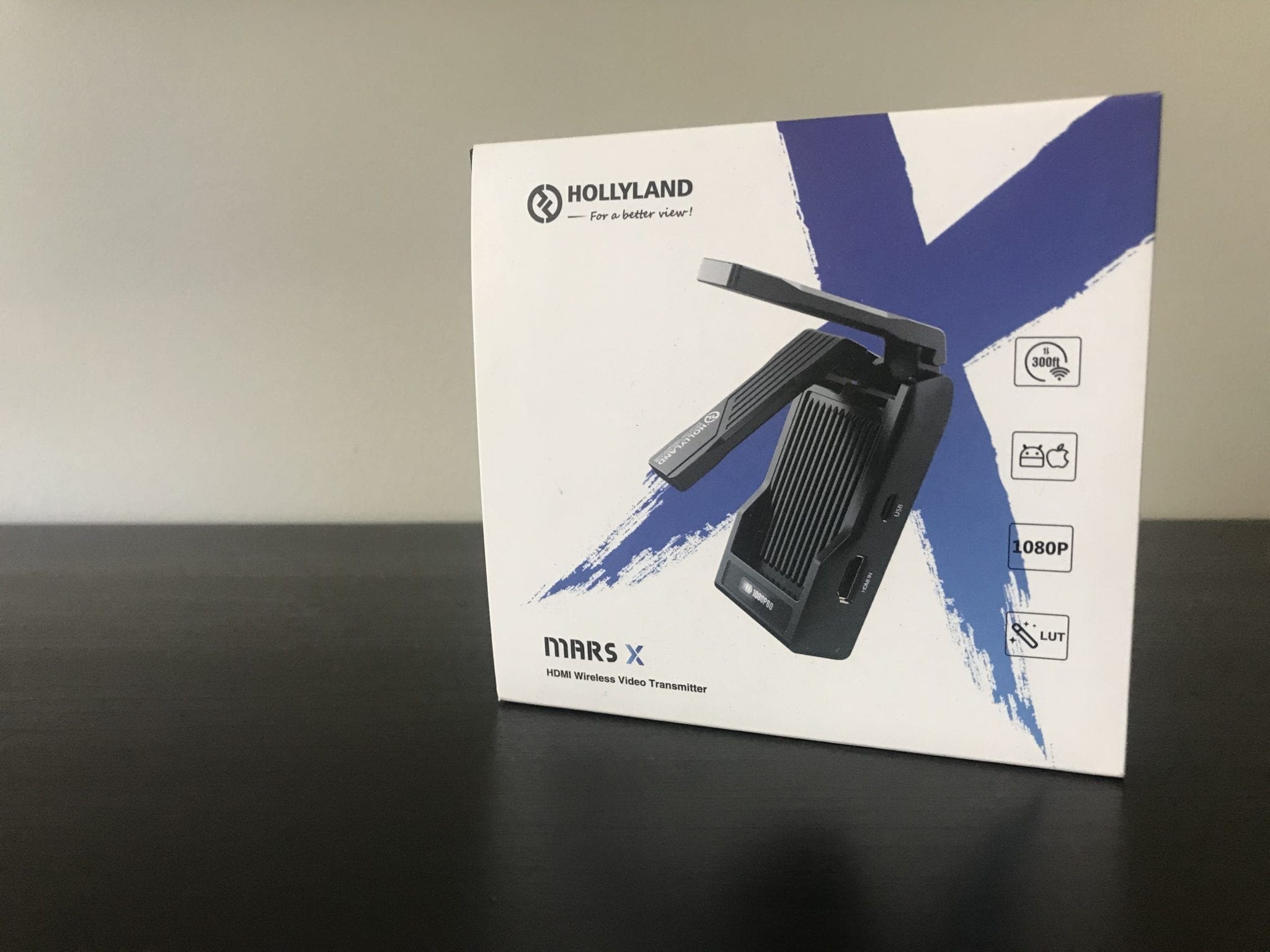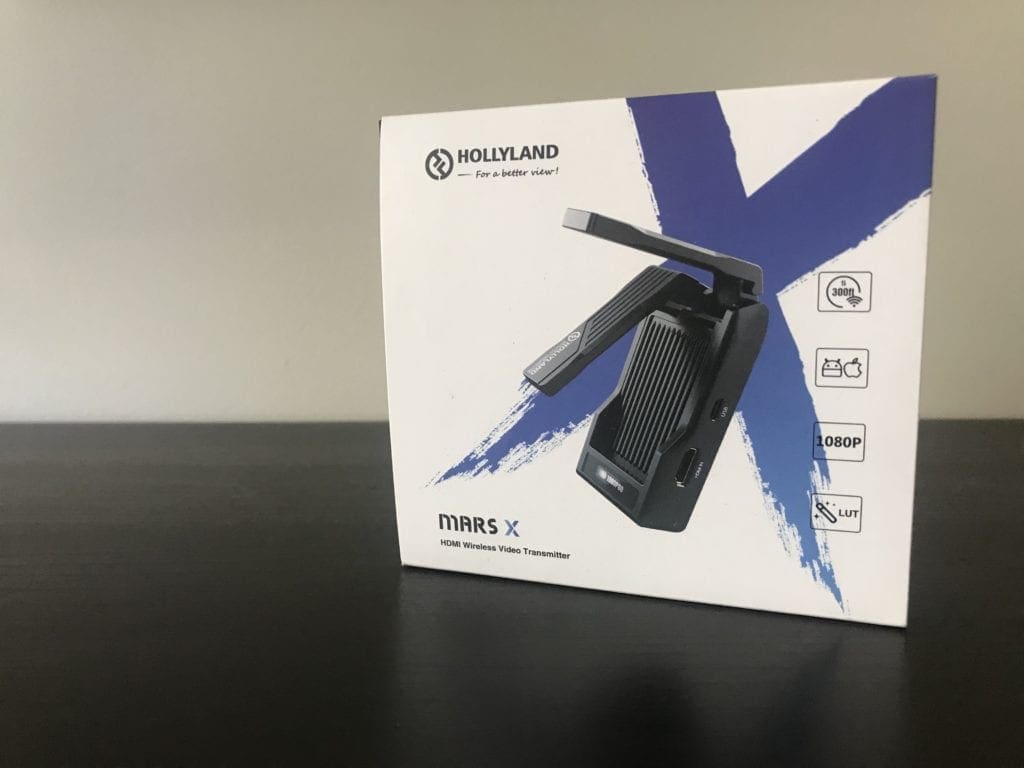 The Hollyland Mars X is extremely easy to setup. Especially since you're only dealing with the transmitter and no receiver – that gets rid of having to pair anything. The unit has an OLED display that shows you a few pieces of valuable information. This includes the WiFi Password, battery status, frequency channel, and video format.
Another plus with this transmitter is that it is very small and lightweight, allowing you to easily mount it on your camera without taking up too much space or adding much weight. It weighs 112g (3.95 oz) and is 50mm*50mm*18mm with folded antennas and 155*50*18 with them fully out. And yes, the antennas are collapsible, which is awesome! It also has crashproof corners and a plastic body. Another great design quality.

Now with a clear line of sight, you can get a 300′ (91.4m) max operating range out of this device. However, any obstructions can bring this number down so be sure to plan accordingly. Cement walls are not your friend. The exact range will depend on your environment.
Sending out the signal can be tricky at times too, that's why there are eight different frequency channel options for you to use. Be sure to always find the best one for your given situation and avoid any interference that you can. The HollyView App has a handy channel scan feature to help you find the best channel. Use it often!

The image is transmitted via an internal WiFi network and can be connected to 3 iOS and Android devices. These devices only need the HollyView App and the appropriate password to start receiving video.

The image latency from the Mars X is <0.07s, which is very good. Unfortunately, depending on your camera, since HDMI (1080p signal) is the only port available this number may increase. It all depends on your camera. This is important for you to consider and you need to know what exactly you'll be using this transmission for. Great for a client monitor, not-so-great for a focus pulling monitor.

This unit has a built-in 1300ma Lithium battery, the downside is that it only lasts 2 hour and the battery takes 2.5 hours to charge. You charge it via the USB type-C (5V-12V) input. It can be powered via a USB Type-C port on the side of the unit that accepts 5-12V inputs, allowing various external power options.

Essentially, all you have to do is power it up, plug in the HDMI cable, and connect to it via the app of whichever device(s) you desire! It really can't get more simple than that.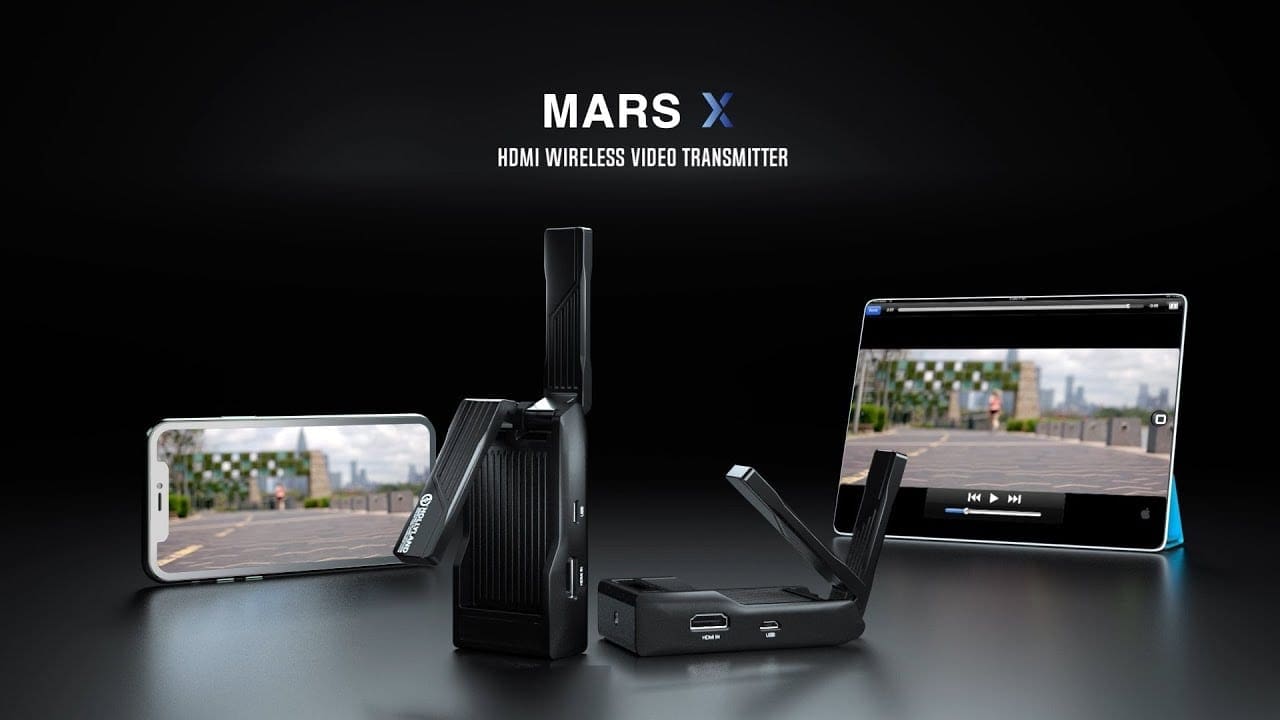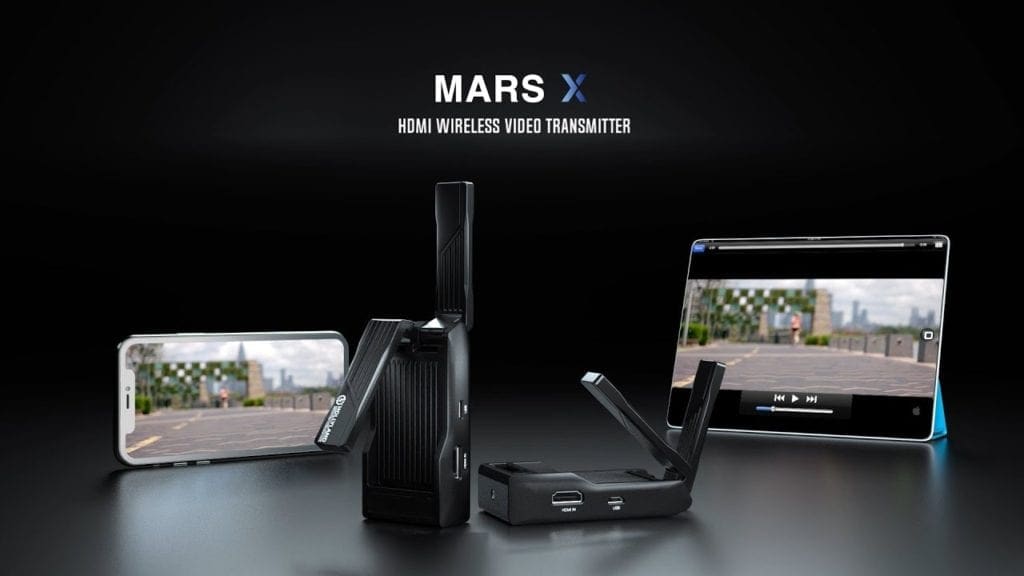 Similar to past Hollyland units, rigging these couldn't be easier! The Mars X comes with a cold shoe to 1/4 20″ adapter, the usual. You can use it to mount directly on top of a small mirrorless camera. The transmitter itself has two of these 1/4-20″ mounting holes, one on the bottom and one on the back.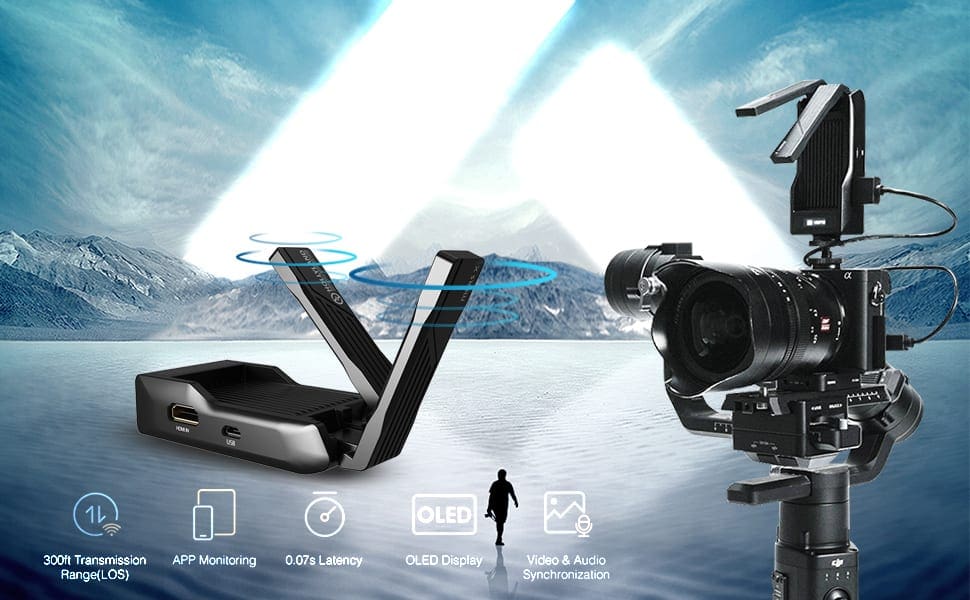 Mars X is a great way for multiple people to see what you are doing on their own devices. Imagine being a client, walking onto set, and finding out you can watch a live feed right from your own phone, you'd be thrilled!
It's almost too simple to get started. All you have to do is connect to the Mars X Wifi on your smartphone or tablet and enter the appropriate password. Next, you open the HollyView app and watch the feed! This app also includes some great features:
Waveform
Focus peaking
Focus magnification
Zebras
False color
Mono color display
3D Luts
Frame Lines
Finally, another wonderful thing about this app is the ability to take screenshots and record the feed and save them directly onto your device. You even have the ability to draw directly on the screen to show things to other cast and crew members. That may not sound very important but it comes in handy more than you'd expect!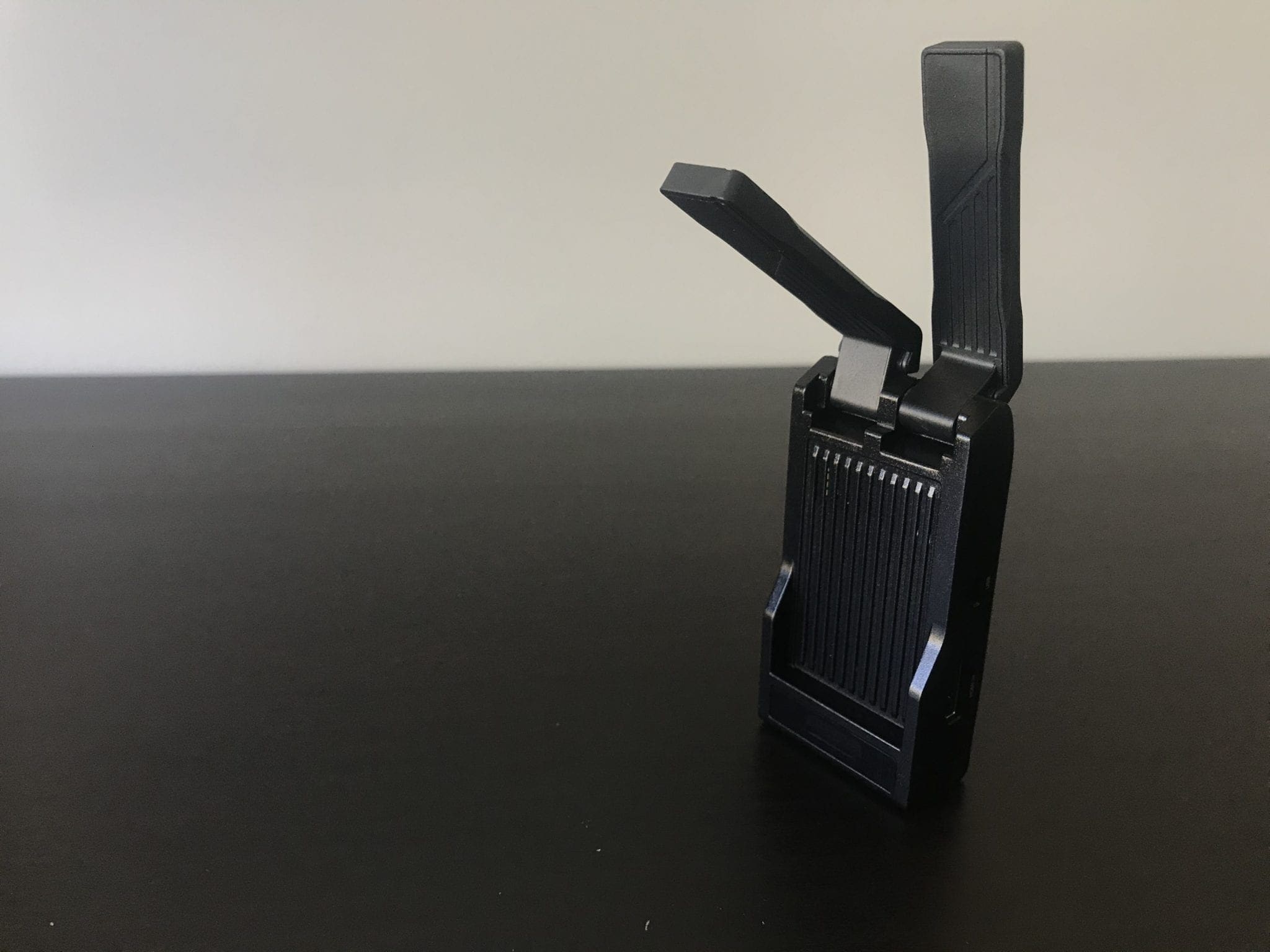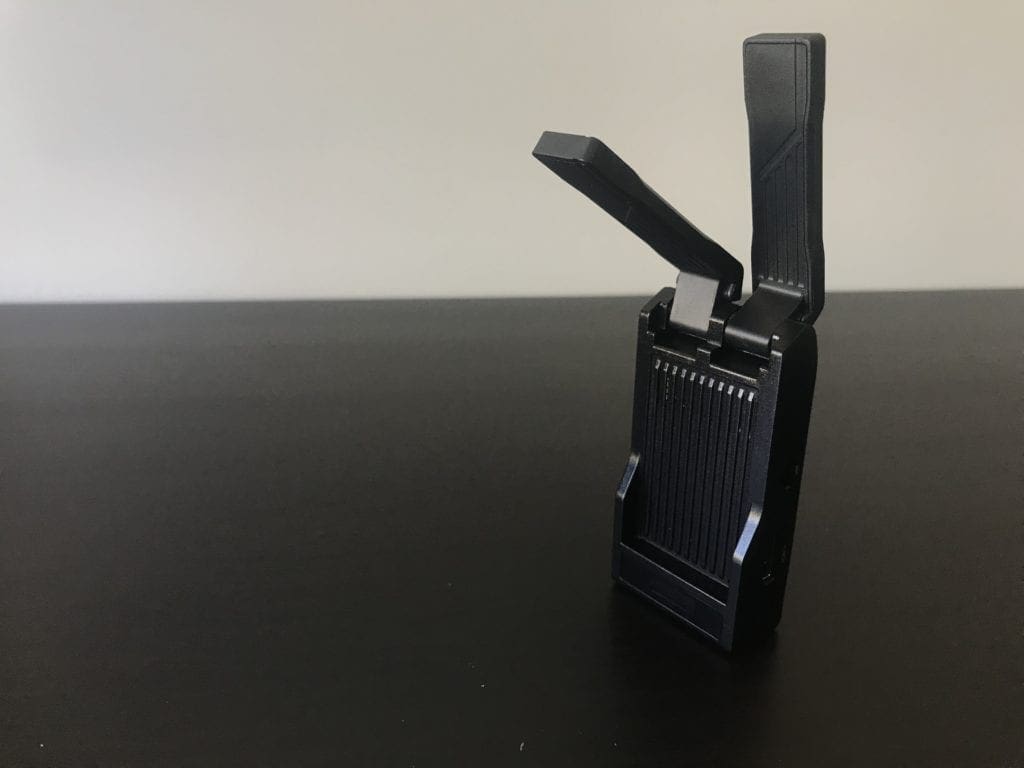 The Good:
Light Weight
Compact
Well Built
Price
Device Casting

Easy to controls and menu
The Bad:
Latency might not be as low
HDMI only
2-hour battery life
The Hollyland Mars X is available for $179.00 USD. This price-point is incredibly low which is why not having a receiver is a suitable trade-off. This makes it one of the most affordable wireless video systems out there.
What do you think about the Hollyland Mars X? Are you going to buy it? Do you have experience with other Hollyland products? Let us know in the comments below!
If you are looking for a more complete transmitter-receiver package, you should check out the Mars 400s or Mars 300! Please keep in mind that these two packages are not nearly as affordable.