The great people over at Hollyland sent us their newest transmitter/receiver package; the Mars 300. This piece of equipment was made specifically for the everyday filmmaker. It's a low cost, reliable piece of gear that does a great job transmitting and receiving signal up to 300′. It was used it in 3 different circumstances: A live-multicam business event with ~200 attendees, a small educational course recording, and a short film. Read on to find out our in-depth thoughts on how it worked for us. Be sure to check out more filmmaking articles and for those of you who are cast and crew, sign up to get your free FilmLocal account!
Our Review
Mars 300 Package Contents:
Receiver
Transmitter
5 Antennas (One Backup)
Screw Fitting Piece (For Mounting)
Cold Shoe
1 DC Power Adapter
Instruction Manual
Case with Laser Cut Foam
Specifications:
Full HD 1080P Transmission
Upgradeable Firmware
Dual HDMI Ports
Size: 105mm * 62mm * 22mm
Weight: 186g
Power Consumption: <6W
Transmission Latency: <0.1s
Price: $500 USD
Please note that you will need Sony NP-F batteries (that are not included) to fully operate both units. The included DC power adapter can only power either the receiver or the transmitter. In my opinion, you should be using batteries regardless. Keeping a 1:1 like this mobile increases its worth to you by tenfold. Plus, this package draws such a minute amount of power that a fully charged battery will last you a long time. After 3 hours of use, our battery had drained only 20%. This will give you time to worry about other onset problems.
I want to quickly touch base with how low the price for this product is. It truly can't be beaten in that aspect. At only $500 USD, you'd be hard strung to find a competitor with similar price and quality.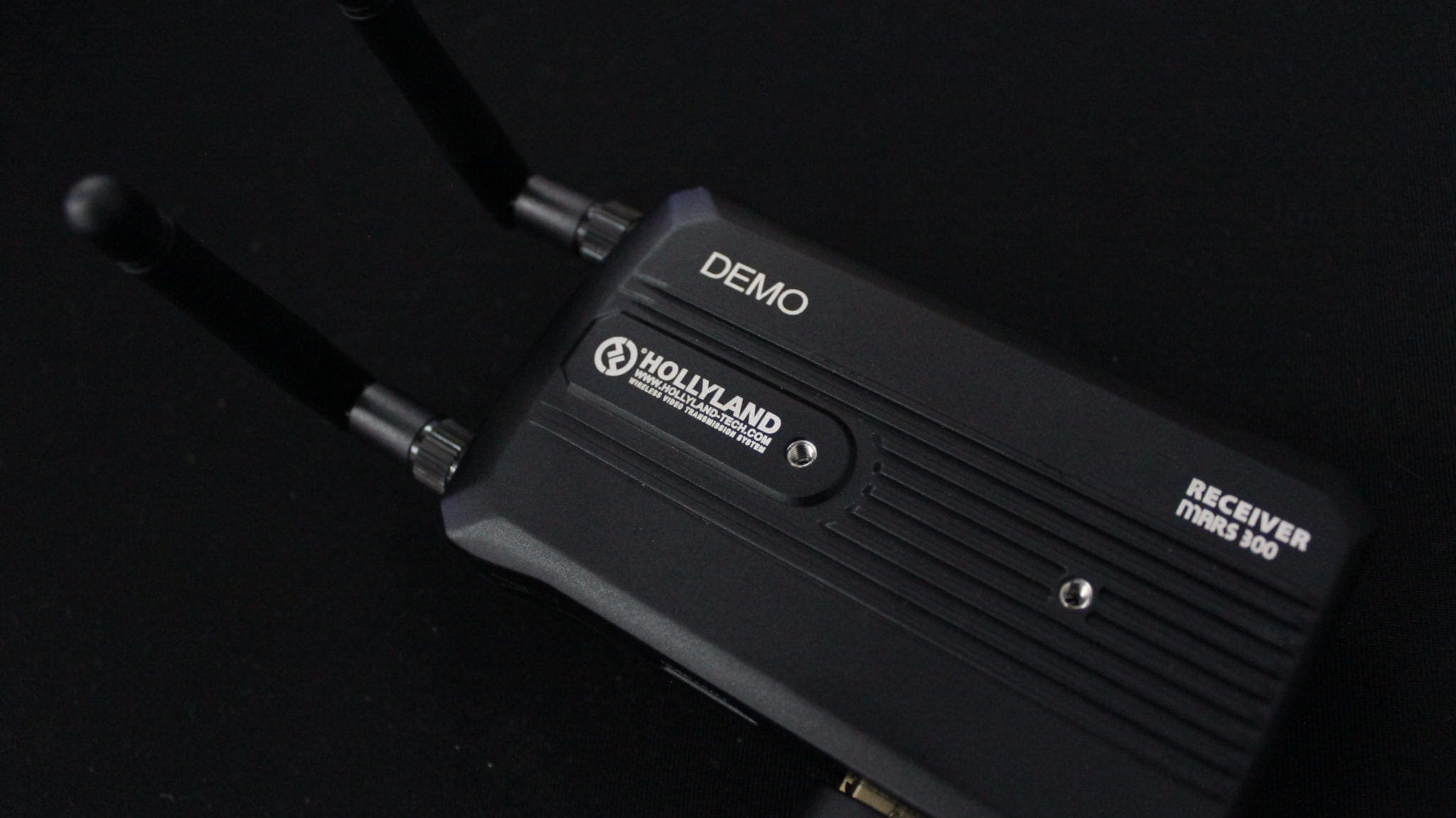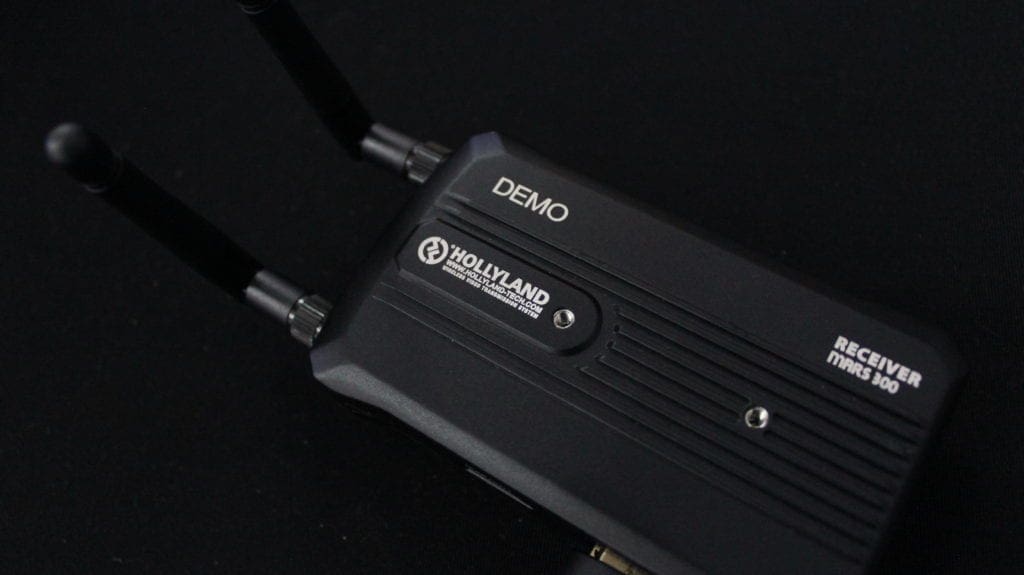 The Setup
The technology was very intuitive, and it was incredibly easy to set up, sync, and get going right away; and as you know, there's no time to waste on set. This is especially useful if you didn't get a prep day. Syncing the transmitter with the receiver is as simple as power both of them on and pressing the "sync" button. They connected quickly and have continued to reconnect automatically everytime I turn the power back on.
Both units are almost exactly the same size and weight. The transmitter has an HDMI in for the transmitted signal and an HDMI loopout for an on-camera feed, such as an operator's monitor. The receiver also has two HDMI ports, both being outs to go to monitors or a switcher. Both of these outs give audio and video.
Other than that, all you have to do is connect two antennas (same kind) to both units, power them up, and you're ready to show off what you're shooting!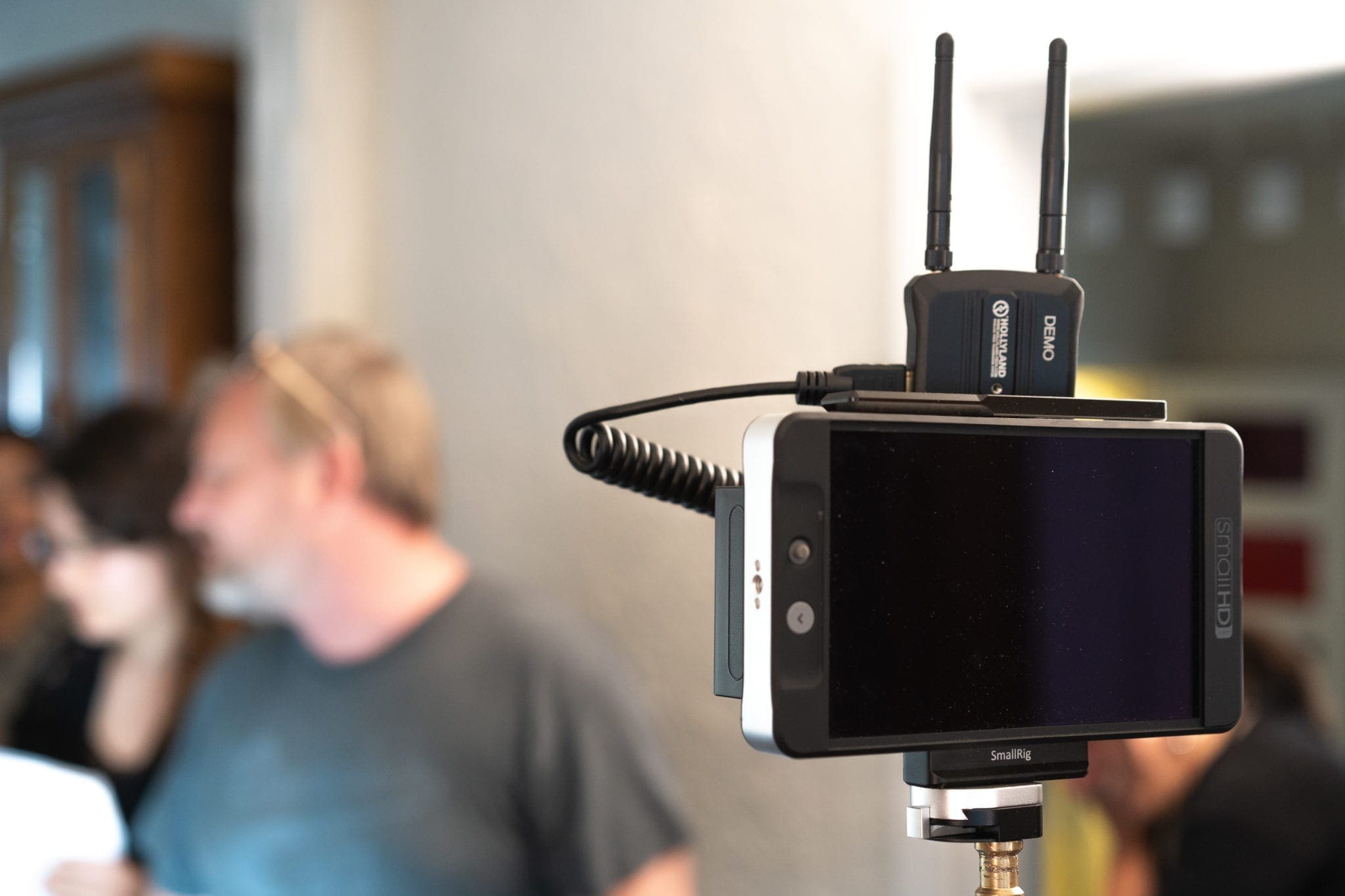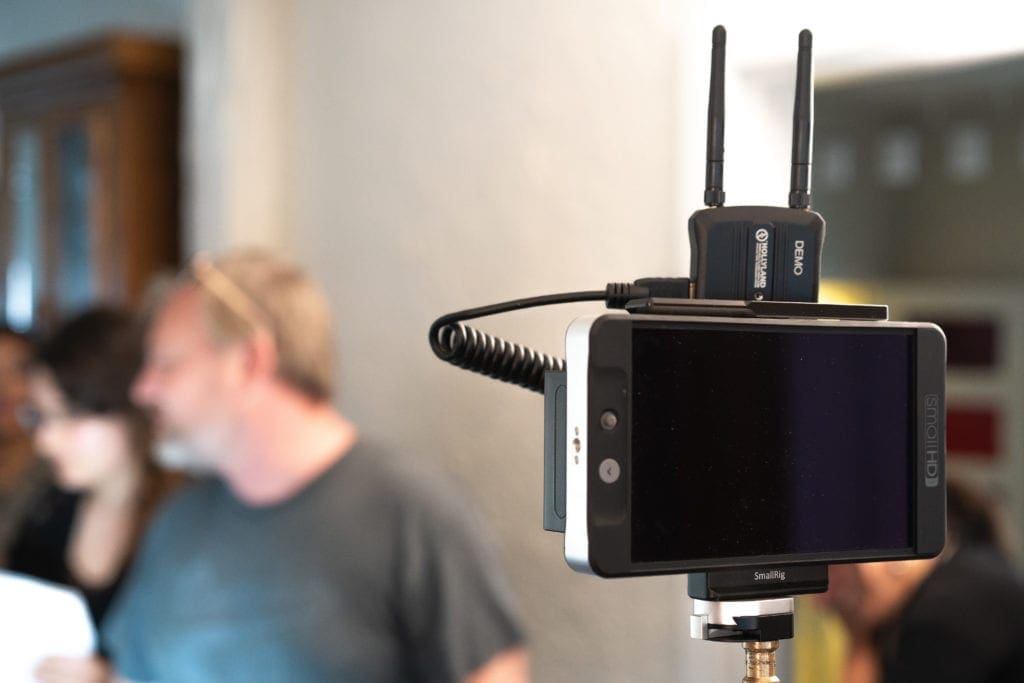 Rigging
Rigging these couldn't be easier! As long as you have the proper cables and batteries, you shouldn't run into any issues. Each unit comes with a 1/4″ thread on the bottom, and there's an included screw fitting attachment for the side of the unit if you don't want it to be standing tall. Great for compact camera builds. There is also an included cold shoe attachment for placement on your camera. Finally, the weight of both units is so minimal (even with batteries) that it can be placed practically anywhere without complaint — one of the most convenient pieces of gear I've ever had to rig.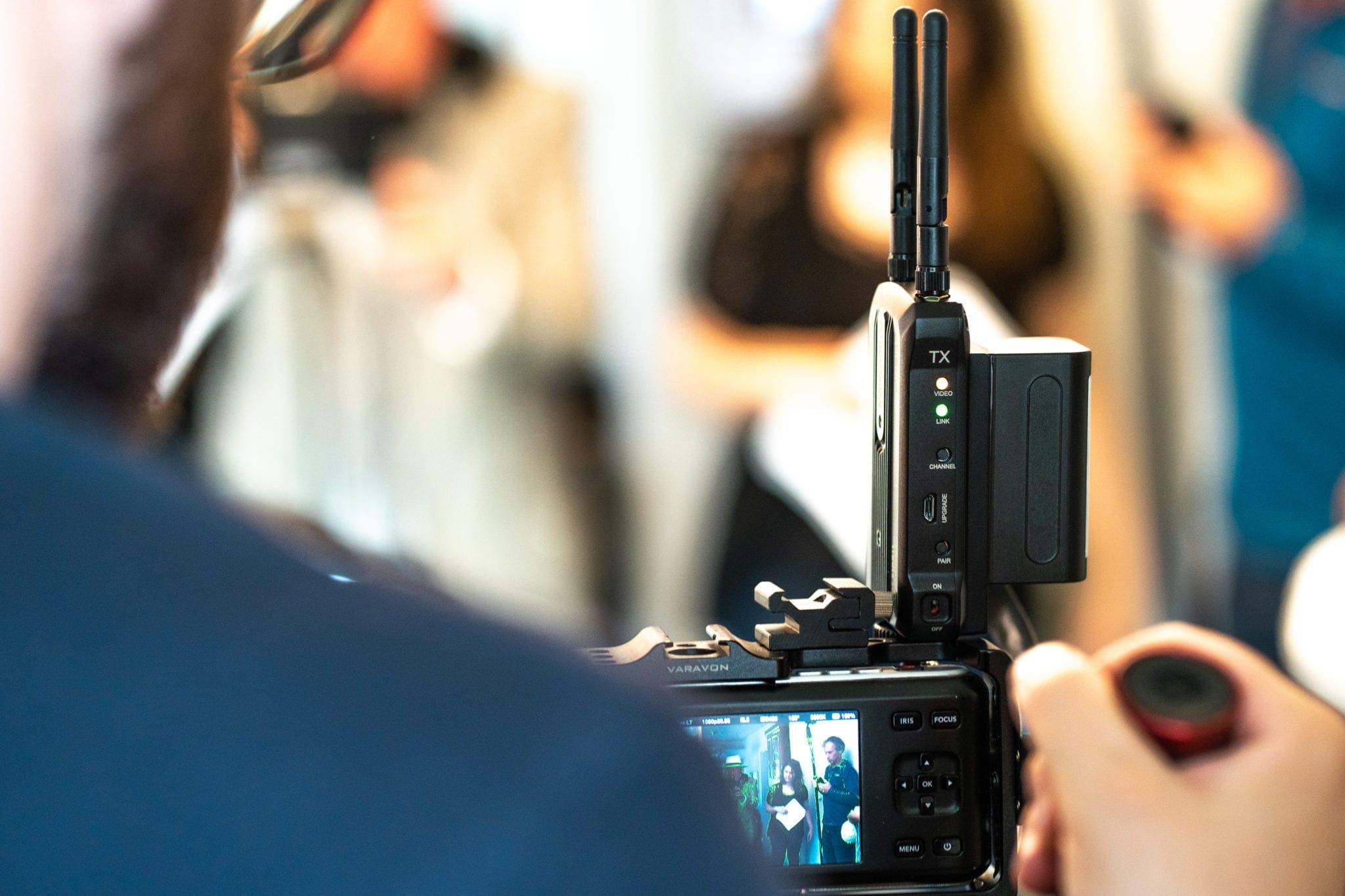 Onset Application
We were able to test this transmitter in a few different environments (as mentioned above) and it proved extremely useful. In all cases, wired video would have been a hazard and a headache. This transmitter package was used for a multicamera set up rigged onto our roaming camera. Traditionally, we would have stationary cameras with wired signals, but when the client asked for some insert shots, our Hollyland transmitter became instrumental in allowing us to get those extra shots with ease. Otherwise, finding a way to get a wired signal to the director would have been a nightmare. Crossing the floor did not seem to cause any noticeable connection issues, and it projected through walls with no impact either. It's worth restating that the place was filled with around 200 people so it's impressive not to have any interference, especially with the amount of cell phone signals. The transmitter was very convenient on our Black Magic pocket camera shoulder rig because it barely added any weight (even including the battery) and didn't get in the way. Plus, it holds a charge for a long time so you rarely have to worry about swapping batteries. Which is additionally useful in applications like this where the event is live.
Monitoring the video signal we did observe some minor signal loss. If you're recording the video signal for additional B-roll it would be easy to cut around as the loss was very brief and seldom happened. If you're recording the signal as your main source for the primary footage, I'd suggest also recording in-camera as a backup. In the event that this signal loss happens to you as well, you'll still have a solid recording from in-camera. Although, it is rare to experience the loss it's better safe than sorry.
I'd say this transmitter is perfect for using the video feed for monitory purposes. We used this transmitter for a short film, using it for the director's monitor, it never cut out or had an issue with the signal. I've seen other transmitters that if you go around a corner or even get too close it interrupts the signal. This did not happen with the Mars 300 transmitter, so I was delighted with that.
Although we didn't get the chance to test it quite yet (we will update this review when we do) I would love to use it on my Steadicam. As you know, a major plus is how lightweight and small it is, making it perfect for adding to a rig that you can't wire and have to perfectly balance. This same principle can be directed toward any gimbal, such as Ronins, as well.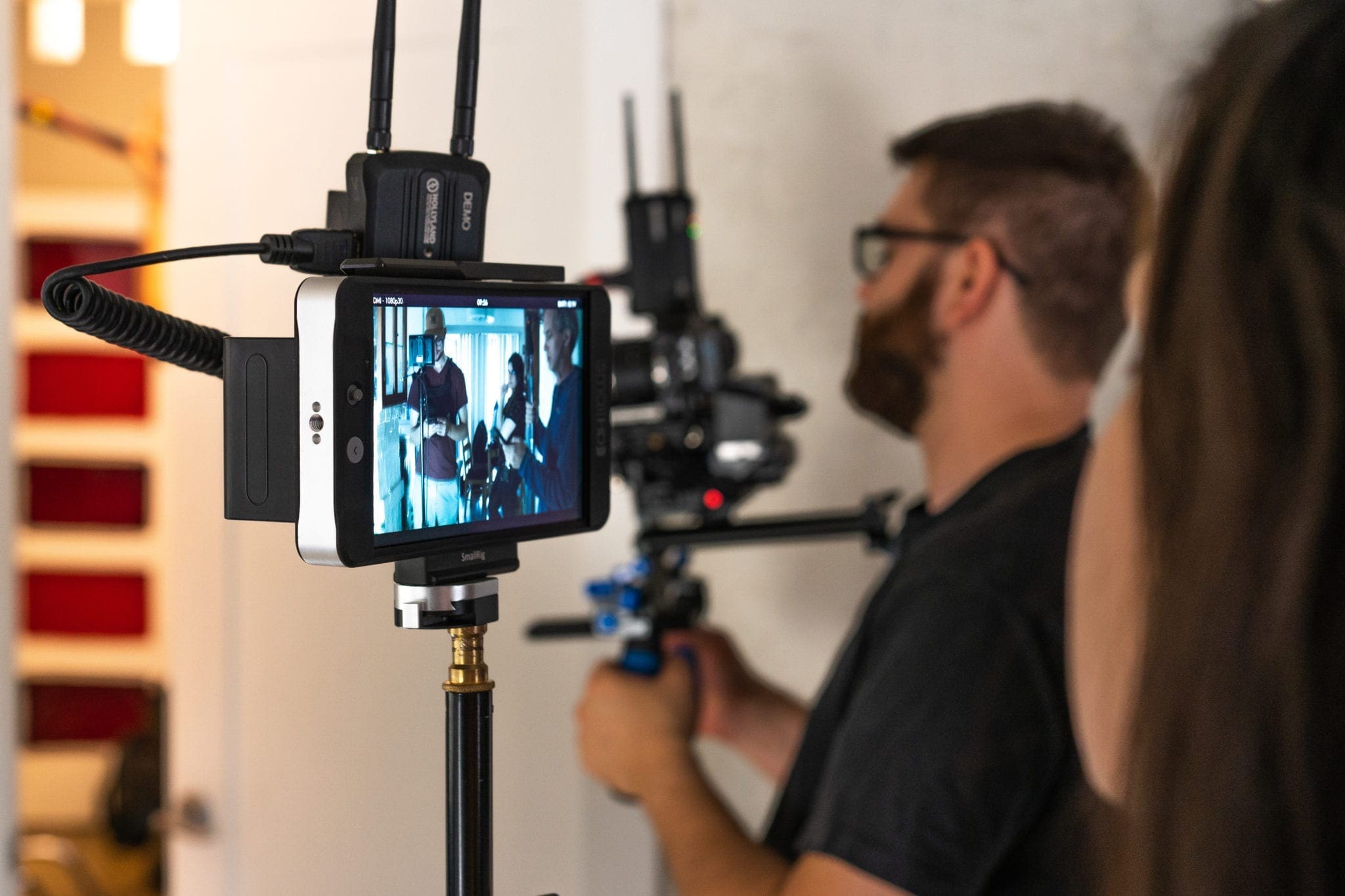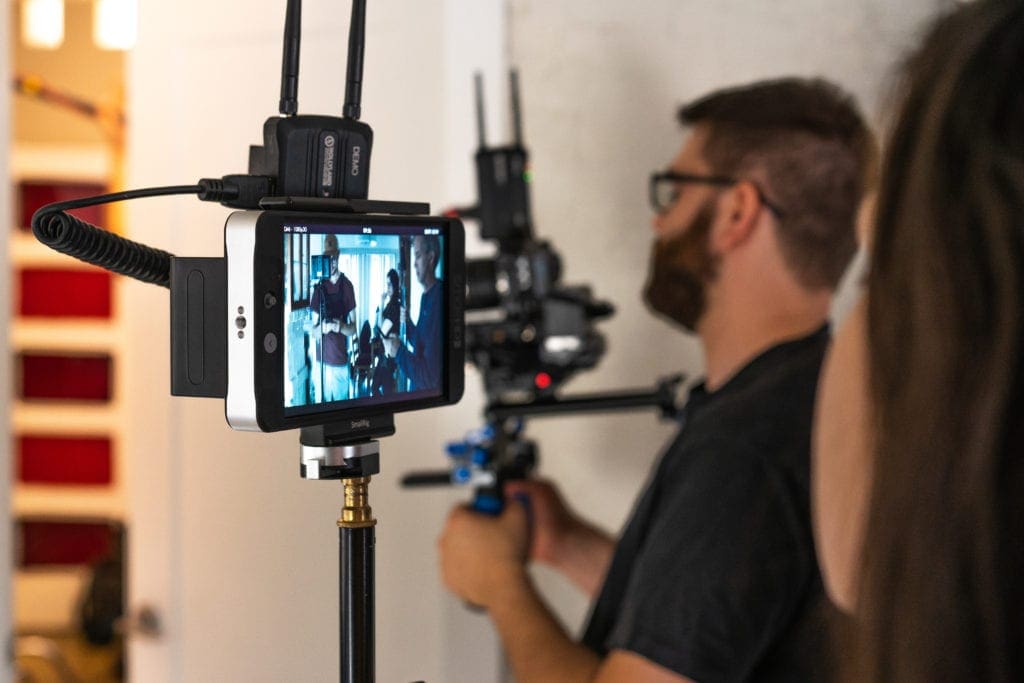 Verdict
Overall, I'm extremely happy with this product. I think the ideal use for this is a directors monitor, but using it on the switcher worked great as well. It's durable, lightweight, and can be easily rigged to a small handheld monitor without worry. You don't want to force your director to carry around something that is clunky and heavy.
In the end, it's a transmitter that I can see myself using frequently, and I would highly recommend it to others. Even with the minor loss of signal, the price and quality just can't be beat, and the HDMI ports make it accessible to everyone. If you need a 1:1 transmitter/receiver package for your small production company, the Mars 300 is an indie filmmaker's dream!
Please let us know if you have any questions in the comments below and we'll be sure to answer them!