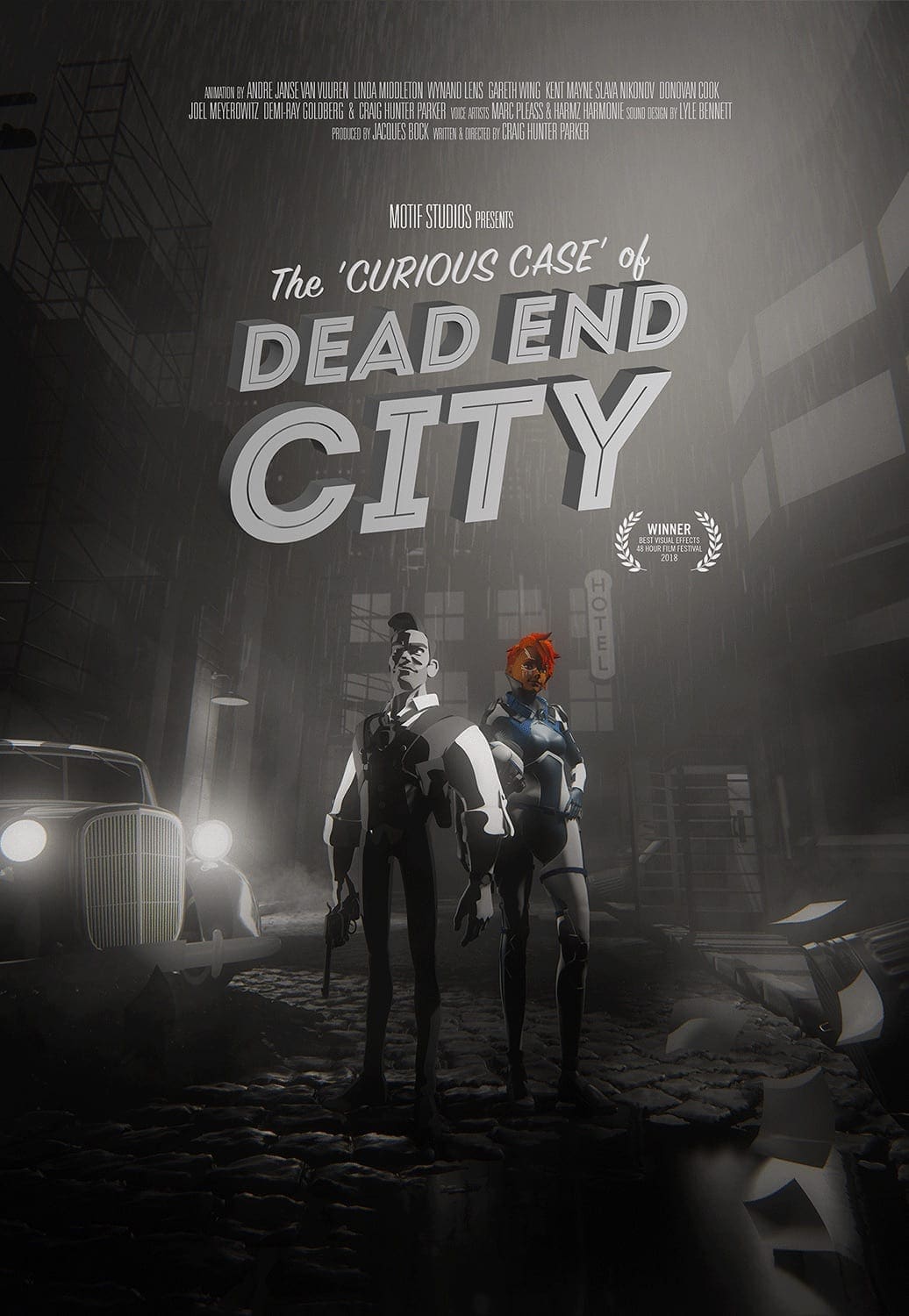 While in pursuit of an unknown suspect, Dead End City's number one private eye, Detective McCoy, crosses paths with a mysterious woman who calls herself AMA. What makes her special is that she is not from his world. Or his time. She's from the future and she's here to save him.
'The Curious Case of Dead End City' is a fish-out-of-water animated story that reshapes our ideas of the conventional film-noir genre while introducing futuristic concepts and above all, humour with a twist.
The short film was produced in a weekend for the 48 Hour Film Challenge in Cape Town, South Africa. Motif built a team of 8 character animators, an environment and asset artist, 2 compositors, 2 voice artists, a sound engineer, editor, producer and director. We knew we had to circumvent a number of processes in order to get a rendered animated short film across the finish line by Sunday evening. The genres: Time-travel and/or Disaster Movie were drawn by our team on the friday. Additional criteria was made available to al contestants the same evening that a character called Chris or Christine (a weather person) had to be in the film. There was a mystery prop which turned out to be a fan that was required and the line of dialogue: 'I can if you can' had to make it's appearance. The script for the short film was written on the Friday evening from about 8pm and completed 3 and a half hours later. Knowing that there would be no time to create storyboards or animatics, the main voice actors arrived and were then recorded on camera giving performance. This was then put into our pipeline as reference footage for our animators according to shot lists. As is required for live-action, we are allowed to have our actors, locations and crew sorted out prior to the competition date of commencement. With this in mind, we designed, modelled, rigged and textured our main characters. We also created a number of set pieces as our locations in order for our story to take place on any or all of them. Our team arrived first thing Saturday morning, were briefed on the story and then got to work. All character animation was done in Maya and exported. We had chosen to go with using the Blender Game Engine owing to it's speed in realtime rendering. With this ability it allowed the director the opportunity to light scenes and choose camera angles on the fly – just like lighting and shooting live-action. Our voice artists then returned on the Sunday morning to rerecord audio and our sound artist mixed once he had a workable cut from the editor.
The film went on to win an award for Best Visual Effects and Graphics in the 48 hour film competition.
Currently, we have now taken what was created, about 6 and a half minutes of initial animation, and have reworked some scenes and added additional moments to the existing short film. The idea is to polish it up a bit over the next week or so, refine the voiceovers and audio and then look to enter the festival market for 2019.
Website: https://m.facebook.com/curiouscaseofdeadendcity
Want your film project featured on Local Films? Fill out this form!