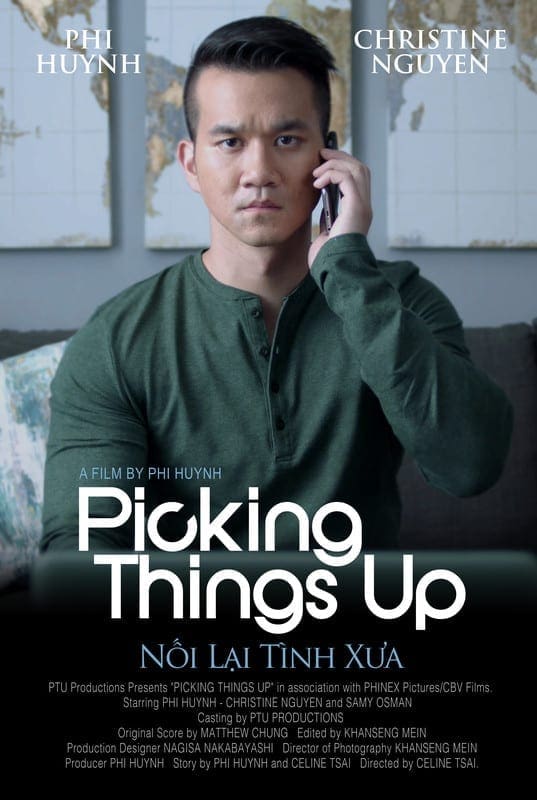 Film Synopsis:
Picking Things Up takes an introspective look at the quandary between former lovers Mike (Phi Huynh) and Sophie (Christine Nguyen). When Sophie resurfaces six months after leaving Mike for another man, a trial ensues as the two deliberate the prospects of picking up where they left off…
Film Synopsis (Vietnamese version):
Sau khi chia tay 1 thời gian, Mike và Sophie cuối cùng đã liều lĩnh cho nhau 1 cơ hội cuối cùng để quay lại với nhau. Sophie đã chia tay Mike để yêu 1 người đàn ông khác, nhưng khi cô bắt đầu bước chân vào cuộc sống của anh ta, S bắt đầu suy nghĩ lại quyết định lúc trước của mình và mọi thứ bắt đầu rõ ràng hơn. Sau khi Mike gặp lại S, anh ta cũng bắt đầu nghĩ tới việc có đáng để bắt đầu lại với Sophie hay không.
Main Cast & Crew Bio.
Executive Producer – Lead Actor – Co-writer Phi Huynh – IMDB: 
http://www.imdb.com/name/nm4403927 
Phi Huynh makes his filmmaking, producing and co-writing debut on, Picking Things Up: Nối Lại Tình Xưa. Phi Huynh is a represented actor and action performer based in Toronto/Vancouver. He will be playing the lead, Mike. He is known for his acting performances in: 2nd Generation (Amazon Prime TV), TAKEN (NBC), Salvation(SYFY), The Next Step S.3, Mayday Air Crash Investigation (Discovery) and Heroes Reborn(NBC). Phi will be appearing in the newest Netflix show, V-Wars as a Vampire in 2019.
Phi is also a stunt performer on several series including: Titans (Warner Bros), Star Trek Discovery(CBS), Shadowhunters, Killjoys (SYFY), Taken 2(NBC), Incorporated (SYFY) and much more. Phi graduated from York University with a Bachelor's degree training in Theatre performance arts in 2011. He also trains incrementally at Pro Actors lab and at the Lewis Baumander acting school. Since then he has been in various commercials, television series, short films, web series and feature films aired across North America. Phi Huynh is one of the fewest Canadian Vietnamese actors in Toronto. He possesses a traditional Karate background and competitive gymnastics tumbling skills with stunt acting capabilities. He speaks fluent English, Vietnamese and conversational Japanese.
Director & Co-writer Celine Tsai – IMDB: 
https://www.imdb.com/name/nm8939731 
Celine makes her writing and directorial debut with Picking Things Up. A trained actor and singer based in Toronto, she recently appeared on Mayday (Cineflex), Rising Suns (NTDTV), Flint (Lifetime) and How to Buy a Baby (CBC). This summer she is going to camera for her second season of Lorenzo (TFO). Celine recently played Belle in Beauty and the Beast (YPT), and co-created a cabaret as one of the winners of the 2017-2018; Shirley Banks Prize for emerging musical theatre artists. Other aspects of life include social dancing, language learning and inquiring into the nature of language itself. In an alternate reality, she is a biochemist and Entrepreneur.
Phi Huynh FAQ's (Producer/filmmaker – Lead Actor – co-writer of PTU)
What made you decide to create/write and act in Picking Things Up?
I decided to create Picking Thing Up because I wanted to have more opportunities for Asian-American actors, such as myself. I rarely see any Vietnamese-American lead dramatic male protagonists on screen. Unfortunately, making a film like this is like an invention. It has to be created during a time of high demand or risk the potential of unacceptance. We live in a social world of memes, viral videos and hashtag trends. Most of the world still isn't ready to accept Asian actors playing lead roles on film/tv. I was willing to take that risk to be accepted. I've already submitted this film to over 10 film festivals worldwide and planning to do more. There is no going back now.
Did you put your own money into this project or receive grants/funding elsewhere?
Yes, I did put my own money into this to pay for the whole production. I am an actor and stunt performer outside of film-making. Since this was my film-making debut, I had saved up all my earnings on set to pay and invest in this film because I believed in the purpose of it. I wanted everyone to know that should this film not be received well (which I hope not to happen), that at least no one else's money was at stake but mine. On the positive side, if this film were to be 'picked up' by a major network, I'd like to have the satisfaction that my risks were well worth the reward.
Why is having the Vietnamese language/experience so important in your film?
I've always grown up watching Asian films that were either spoken in Japanese, Cantonese, Mandarin or Korean. I rarely ever see any films in the North American film market that portrayed Vietnamese language or experiences outside of the Vietnam war era. It's funny because the last time I heard Vietnamese spoken in a big movie was "Mean girls" during the gym scene. The only times I played a Vietnamese speaking character on TV was a Vietnamese soldier. When I was shooting this on set, many non-Vietnamese speakers thought that this film sounded different, unique and refreshing because there was a new Asian language being spoken on screen that's outside the norm.
How did you come up with the idea for this film? What influenced you?
I wanted to focus on real life, real people problems that are common in everyday lives. I didn't want to write a 100% cultural based work, although there are some influences and easter eggs within the film. The film focuses on the mid-20s, ex-couples seeing if they can pick things up where they had left off despite the separation reasonings and problems in the past. This topic interests me a lot because it is very common in today's day and age. I want this film to hit home very hard as it is made relevant to almost every couple out there.
How did you prepare for this lead role while also taking on the role of producer and co-writer?
The fortunate thing about co-writing this film is that you know the tone, mood and character development because the material is in front of you. The cast had numerous rehearsals before going to picture. We had time constraints on when to shoot this because we had a deadline with some of the cast and crew not being available afterward. I didn't know how tight of a schedule until I heard it from my production manager. I had 3 weeks to diet down and work out harder than I've ever had before for film because of a certain scene. I was always in relatively good shape for stunts, but not super ripped like the genetic freak athletes out there. There was a romance scene where I had to be shirtless. This was the most difficult challenge I had for this film because I've never done a romance scene before. I wanted to do justice for the Asian community and defying stereotypes that Asian men cannot be deemed as "sexy" or "masculine" enough, let alone play a lead role in a drama.
Where do you want this film to go?
Ideally, I'd love for a network to pick this short film up and expand it into a TV series. I believe my film has the potential to grow. It's not perfect, but I believe it can make waves for the upcoming diverse artists. Although this is my filmmaker debut, I don't want to doubt my abilities. I've worked as an actor and stunt performer on many sets and I love to just observe and study every cast and crew member I work with in order to understand what goes in and out a scene to make the story come to life. 7.
Since you are an actor and working stuntman, will there be any stunts in this? What do you have planned for the future?
The answer is yes, there will be some stunts in this film. It is not shown in the trailer. I am an advocate of hard work and I wanted to make sure there were no stunt doubles, that I did my own action. I have an idea for a feature film and am currently writing it. I would love for investors, other producers, and the Vietnamese community to come on board and back it up financially. It will be an action genre film focusing on some Vietnamese heritage. Would love for serious producers/directors to come on board and create this with me.
Current Film Publicity listings: Thoi Bao Canada Inc (Vietnamese North American Newspaper Article) – http://thoibaomedia.com/new-film-by-canadian-vietnamese-actor-picking-things-up/?fbclid=IwAR2XsnZbj504yRavLRfQgtbpzLElhqXmE6baJyw-vjVQSseaV67FgAl9Qyo 
IndyRED Movie Review Article: https://www.indyred.com/pickingthingsup.html
Website: www.phihuynh.com/productions 
Want your film project featured on Local Films? Fill out this form!