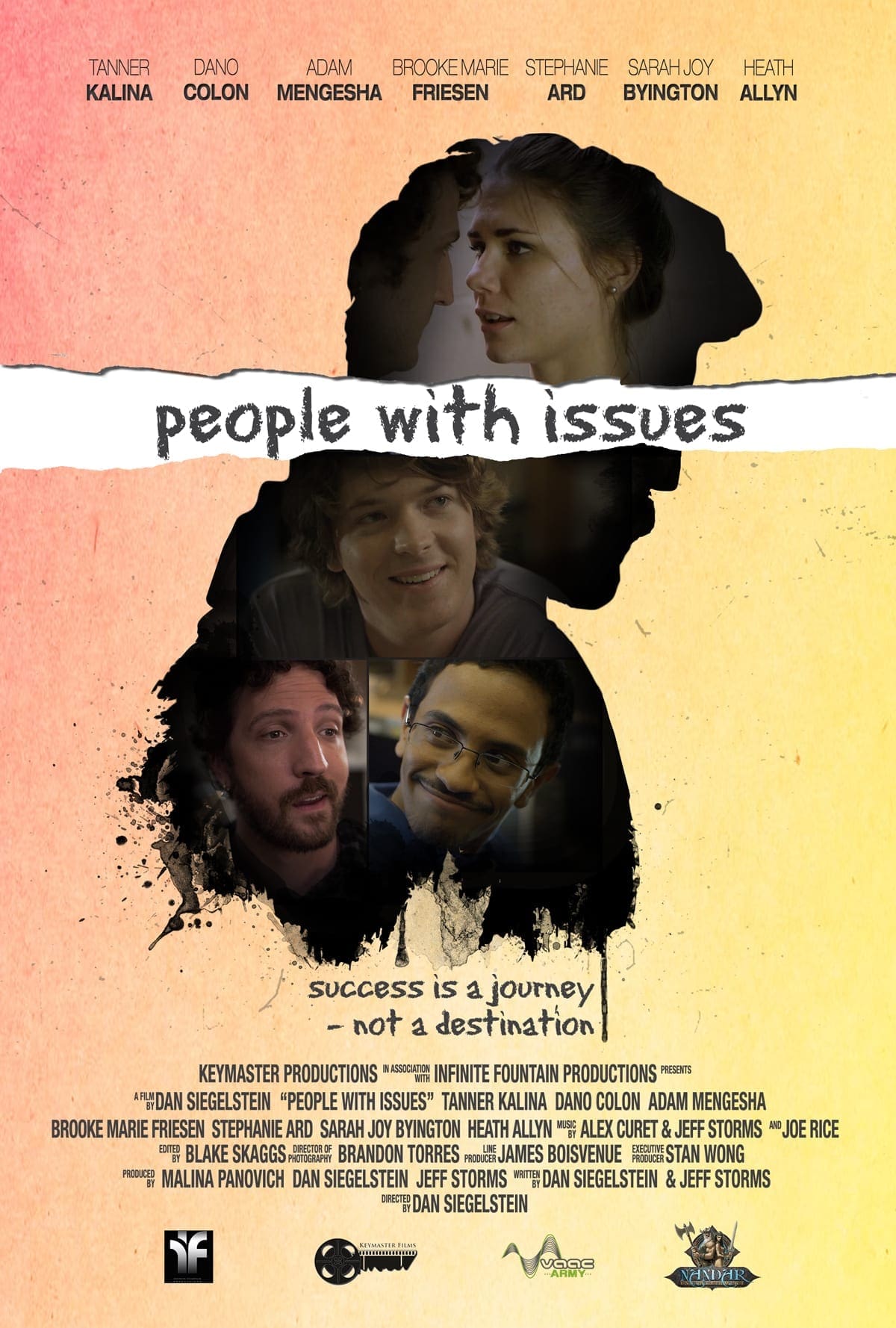 The movie found its beginning a couple years after I graduated from UT. I was working as a freelance grip and script supervisor in the Texas film industry to pay the bills and learn how movies are made from the inside-out to be a better producer/director when that time would come. During that time I was trying to write a feature-length version of my undergrad thesis film, which I was struggling with, because my thesis film was a gangster film.
The problem I had with the script was finding the authenticity and truth in all the scenes – some of it worked fine, but in so many portions of the script I just thought, "I am writing this because this how it was done in GoodFellas and the Sopranos. I didn't really GET it." There is that saying, "write what you know," but what did I know? I was a recent college grad who just got out of a long-term relationship, who liked hanging out with friends as we try to figure out how the hell we were supposed to get up on our feet after college when we were all film and music dudes. What kind of story could I write there? And around this time I was starting to immerse myself in the filmography of Woody Allen. I had seen several of his movies and knew of him, but after seeing "Hanna and her Sisters" and "Manhattan," that's when it clicked on how I could take my personal and artistic woes and put them in a movie that is entertaining. If Woody Allen can tell stories about eccentric New Yorkers going through existential/life/love crises and make entertaining movies about them dealing with their insecurities in a humorous light, then perhaps I can take my "write what you know" status and craft something entertaining with it too.
That is not to say the characters are thinly veiled versions of my friends and I, because as the movie went through several drafts and especially once they were cast with actors who brought their own takes the characters kept on growing and evolving beyond the written page – but their core struggles that they went through were deeply personal to me at the time. So I am working as the best boy grip on this one particular movie shoot that involved lots of stunts and make-up and special effects, so there was a bit of down time on that shoot. I filled that by writing character sketches and outlining on a story – and sometime thereafter I had a very rough first draft of what would eventually become "People with Issues."
I got Jeff Storms, who I became really good friends with at UT, involved in the script. We clicked and became fast friends due to similar loves for David Cronenberg movies among others. We didn't explicitly say it, but I knew in college that Jeff would be the kind of guy that I would want to collaborate with on movies in the future, and in fact we did actually work together on my undergrad thesis film – he was the sound mixer on that one. So I show him the script, he had his thoughts. I worked further on it, and then he started taking it further by handling a lot of the Roberta-Patrick-Jack scenes and he truly cracked those and made them work. We did table reads with various Austin actors, we workshopped the script even further. And we were also working on our own different scripts at the time too, but at a certain point it just clicked – "People with Issues" is the movie we should make. It was certainly within our means to produce, and I had always thought that if I am going to invest my time, energy on a film that has my name credited as director it will be the sort of movie that I want to see. It would be the sort of movie that is representative of the sort of the films I like. It would be the sort of movie that I am proud to say I was the director of.
Jeff and I founded Keymaster Productions, LLC to make the feature under. I contacted line producer and 1st AD friends of mine in the Austin film industry to help in drafting potential budgets. In February 2013, Jeff and I produced a 13-minute proof-of-concept piece for the feature film that took two days to film. We were all set to raise funds and make this movie! …until we couldn't raise the funds by the necessary time, and we didn't make the movie.
Though feeling somewhat defeated, I couldn't help but continue re-reading that People with Issues script and loving the characters. Thinking the material was too good to go to waste (and also feeling a bit obsessive), Jeff and I re-tooled the first act of the script to be a web-series that was financed through a successful crowdfunding campaign.
In May 2014, "season 1" of People with Issues was filmed in seven days. Once post-production was complete, what was yielded was 48 minutes of narrative. It had become clear that my time spent working on sets as a grip and script supervisor had imparted upon me the savvy to run a film set with proper prioritization. The production got the maximum bang for its buck by choosing locations that can double as other locations, thus eliminating the need for company moves, along with the knowledge of proper on-set order of operations to run with efficiency. In early 2015, the project received another blessing when its star, Tanner Kalina, was cast as one of the main performers in Richard Linklater's ensemble comedy Everybody Wants Some!!
When that movie began being referred to as a spiritual sequel to Linklater's famed Dazed and Confused, I was handed a very interesting bargaining chip for future meetings with film investors. Everybody Wants Some, Linklater's follow-up to his Academy Award-winning Boyhood, is the spiritual sequel to the movie that took a bunch of unknown actors who would eventually become movie stars like Matthew McConaughey, Ben Affleck, and Milla Jovovich…
When pitching for money in the financing stage, one would first ask if it's an easy sell like a horror or action movie. If it's a comedy or drama, they then ask who is in the movie. As in, what famous person will make me want to watch this comedy? Unless there's a star, comedies and dramas are tough sells. But with an actor who is now connected to a director who has a proven eye for casting people before they become famous, People with Issues now had a potential future movie star attached.
Jeff and I took the remaining acts of the movie (completely re-wrote the ending), and adapted them to be "season 2" of People with Issues, the production title of what was really the necessary batch of filming to expand on what was already shot to complete the project as a feature film. In February and March of 2016, the cast and crew reunited for 12 additional days of filming, thus marking the completion of a movie that took three chunks of filming over the course of three years to make.
Website: www.keymasterfilms.com
Want your film project featured on Local Films? Fill out this form!