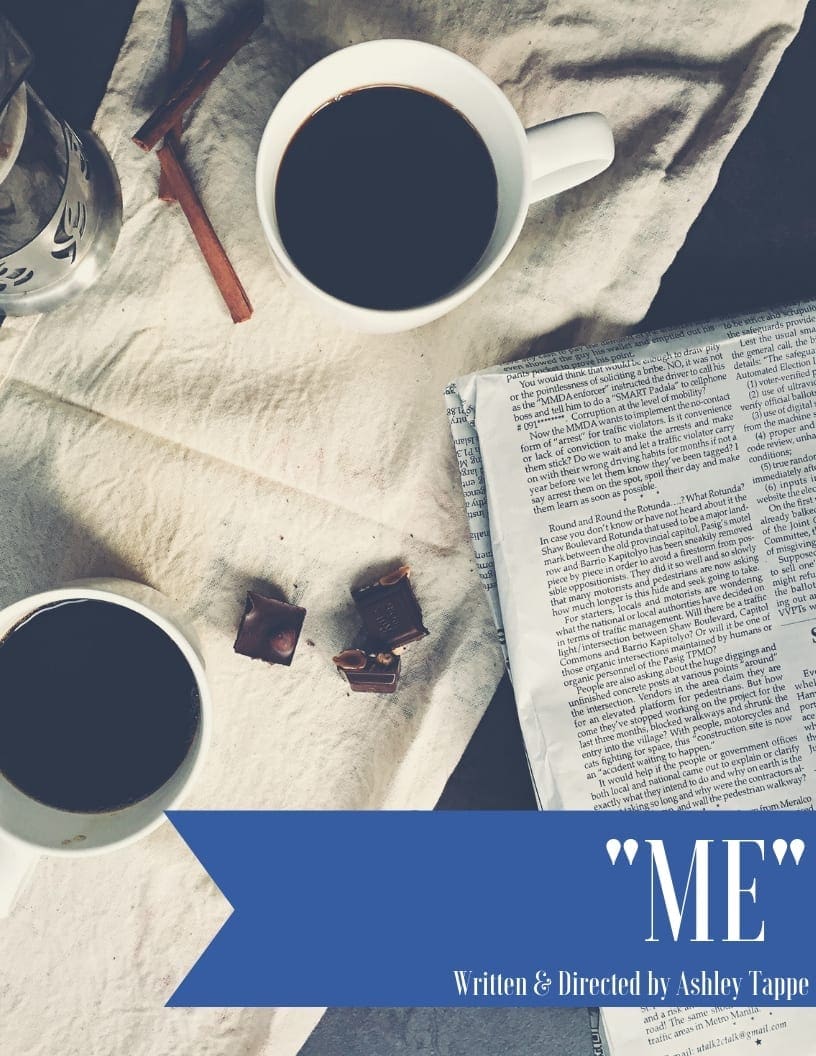 ME, a young black woman in her early 30's is an aspiring Screenwriter and Director. For two years, ME was an Uber and Lyft driver constantly dreaming of becoming a full-time filmmaker. Through the trials and tribulations, ME began to read self-help books, meditate, and read. After getting into the right mind state by working out, she comes up with her main mental cleansing activity, also known as her walk with God. ME's morning walks with God helps her to stay in a positive mental mindset, which allows for her to stay focused and motivated throughout the day. Everyday after her morning walk, ME practices her morning writing, also known as her morning pages, and she understands that if she wants to become a prolific writer, then she must practice her writing skills everyday. Before leaving to go to California, ME has an intense conversation with one of her long time friends, by the name of Choice. Choice is a local comedian who used to live in Los Angeles, and is rooting for ME to win. He gives her a plethora of words of encouragement. Choice understands the power of Gratitude and constantly reminds ME that she must show gratitude before she prospers.
One of ME's favorite books is, "Think and Grow Rich," by Napoleon Hill. She constantly refers to that particular book as her prosperity bible. She understands the formulas that were placed in the book that were made for one to become successful. Both Choice and ME understand the power of the spoken word and how your word becomes your wand and before ME became enlightened, she would tell people that she was a ride share driver. Once ME became enlightened about her life, she began telling people that she was a Writer, and that's what she did for a living! ME finally grasped the concept of ACT-AS-SUCH.
Though her main purpose was to be herself and never become anyone else, she understands that the main manifestation technique is to act as if she already had it. Once her subconscious mind could accept the fact that she was really a writer, her actions began to reflect that and her career took off. She understands that you don't have to be a genius in order to do what it is that you would like to do, but rather believe in yourself, and live from the end. Live as though whatever you want to manifest is already happening.
What inspired me to create this film was a spiritual shift in my consciousness. I believe that everyone in life will have some type mental transformation in their life. As I was seeking to become a better me and mentally free, my writing also reflected this freedom. This project was a quick one, but very fun to work with the two actors that were on set. This film making process was very inspiring and very fun to make. I plan on making a series of inspirational and metaphysical films that are along the lines of this one. I believe that people should see more films like this, and should understand the concept of believing in one's self.
Want your film project featured on Local Films? Fill out this form!