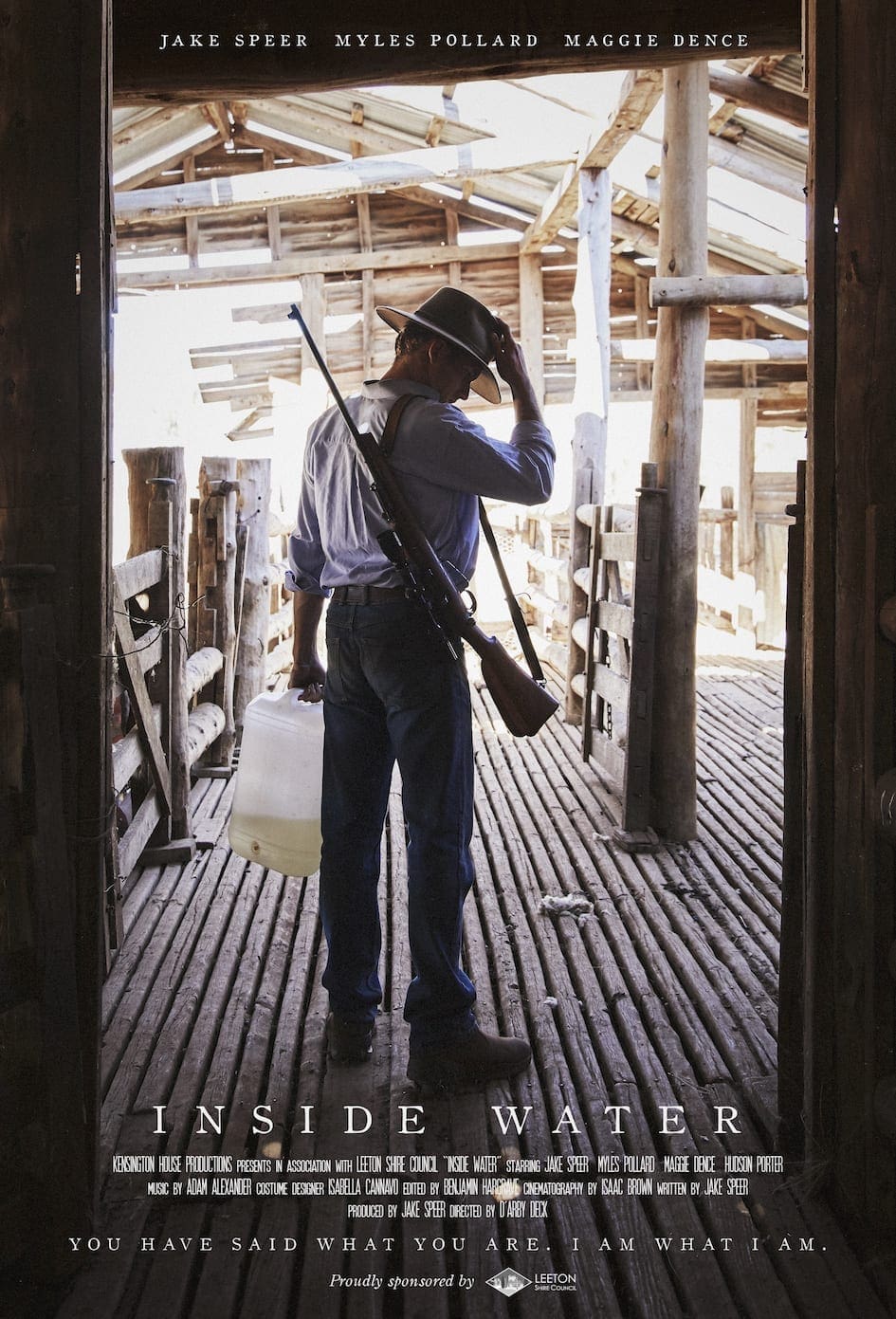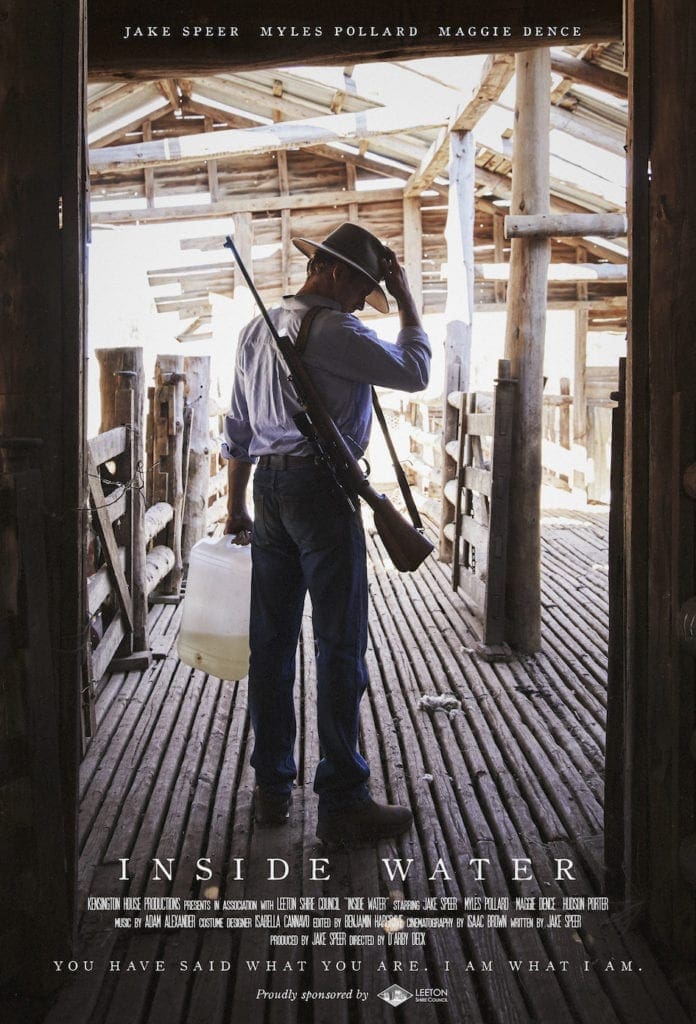 Inside Water follows the journey of Matthew, a young man working a failing farm amidst the most severe drought on record and a devastating global economic collapse. After the death of his father, Matthew has taken on the responsibilities of managing the farm as well as caring for his grandmother and younger brother. Set against the backdrop of the harsh and unforgiving Australian bush, Matthew must protect his family and his most precious resource, water, at all cost.
Growing up in the small farming town of Leeton in the food bowl of south-west New South Wales, I spent my childhood observing the struggles and beauty of rural life. That little town is such a big part of who I am as a person, so it's no wonder that it has made its way into my work. Leeton would go on to become the shooting location, home base for production, and the major financial contributor for Inside Water.
The creative journey of Inside Water began in late 2014, with the intention of creating a short film exploring an isolated family suffering through drought. The protagonist's struggle was always very clear to me; a young man coming to grips with the burden of his new responsibilities and the suffocating grief that comes in the aftermath of his father's sudden death. Inside Water is a story of evolution, both within its narrative as well as in its execution as a film.
The story of making this film is filled with small transformations spread across twelve long months of hard work. The single biggest lesson it handed down to me was "collaborate and evolve". Though the initial idea for Inside Water was with me for a long time, the story of the film slowly revealed itself throughout its journey. Firstly, it was thanks to my Dad that we found the magnificent homestead, Merribee as our filming location, way back in 2014. The next key evolution came two years later when I stumbled across a poem by the 13th century mystic Rumi. It was in this poem that I discovered the film's title, as well as a the idea of a cyclical power that inspired a critical shift in the narrative.
Inside Water began to evolve into a meditation on action and consequence, which strengthened my attempt at examining grand global transformations on a singular, personal and very human level. It became evident that running alongside my desire to unpack the friction that occurs between old and new, was the notion of legacy and burden, and the clear image of man's determination to endure suffering and rise above it. With a rough draft in hand, I knew there was only one person I wanted to helm this project with and take the film into its next stage of development. My longtime mate D'Arby Deck and I spent our university days shooting micro-budget shorts in the neighbourhoods around our tiny apartment and campus, but now it was time for us to take a big leap forward on a more ambitious, larger scale short film. It was in these early development days that we committed ourselves to telling the biggest story we possibly could within the confines of the short film medium.
Both being fans of the genre, we embraced the idea of the western and endeavoured to uncover what the modern Australian western would look like. As a way of getting us closer to the source of this story, D'Arby and I spent time in my home town of Leeton visiting a number of local farmers to observe their work and discuss in greater detail life on the land. This research trip proved to be a fundamental milestone in the progression of the film. Though I was visiting people I knew personally, the experience revealed to me the authenticity this story demanded. This was not just a world of ideas, tone, and style; it was rooted in a truth that was a reality for people I knew, and it demanded care and respect.
As the journey of Inside Water continued, we became increasingly aware of the media coverage surrounding the current state of the severe drought in regional Australia. It was obvious to us the deep cultural significance the film was beginning to explore such as rural suicide, isolation and the hardship of rural living. This was a landscape and a subject both myself and D'Arby felt had rarely been represented on screen, and consciously made the decision to continually strive for authenticity throughout the entire journey of the film. Whenever we caught ourselves pushing or forcing a moment (whether in writing, in performance or in post-production) we would always ask ourselves what those farmers back home would think of it or how they might react. They had become our inspiration and our mentors.
In the months leading up to production, we set about raising the funds required to make the film. Inside Water would turn out to be a film championed by regional NSW in a number of ways. After an extensive conversation and pitch presentation, we partnered with Leeton Shire Council, who came on board as our principal funding partner, as well as a number of local businesses and entrepreneurs. Together with a coordinated crowdfunding campaign, we were successful in raising the $50,000 it would take to make Inside Water a reality.
One of the greatest challenges I faced was when it came time to commence production. With only five days to shoot the entire film, I was balancing three key positions; writer, producer and lead actor. It required a constant shift of focus and attention, but the frantic nature of it was incredibly exciting. There was never a moment on set when I didn't have my phone in my pocket, even during filming! We would be shooting a scene in the middle of a paddock and as soon as 'cut' was called, I would be straight on the phone finding out where lunch was or if a cast member had arrived safely.
One of the most rewarding and proudest parts of making the film was bringing our cast and crew to my home town. From the very outset, I knew Leeton would be the home of Inside Water, so to have our team of twenty from all corners of the country descend on my home town was a particularly touching moment for me. To have the town embrace us as they did was even more incredible. The support for the film through every stage of the process has been remarkable and incredibly humbling.
Without the contributions of everyone who has supported and been a part of the film, we would not be here with an incredibly polished and powerful short film that we are all so proud to share with the world.
Inside Water will have its festival premiere as a part of the official selection at the St Kilda Film Festival in Melbourne Australia on June 29th 2019.
Actor/Producer/Writer Jake Speer
Website: https://www.facebook.com/insidewatershort/?ref=bookmarks
Want your film project featured on Local Films? Fill out this form!