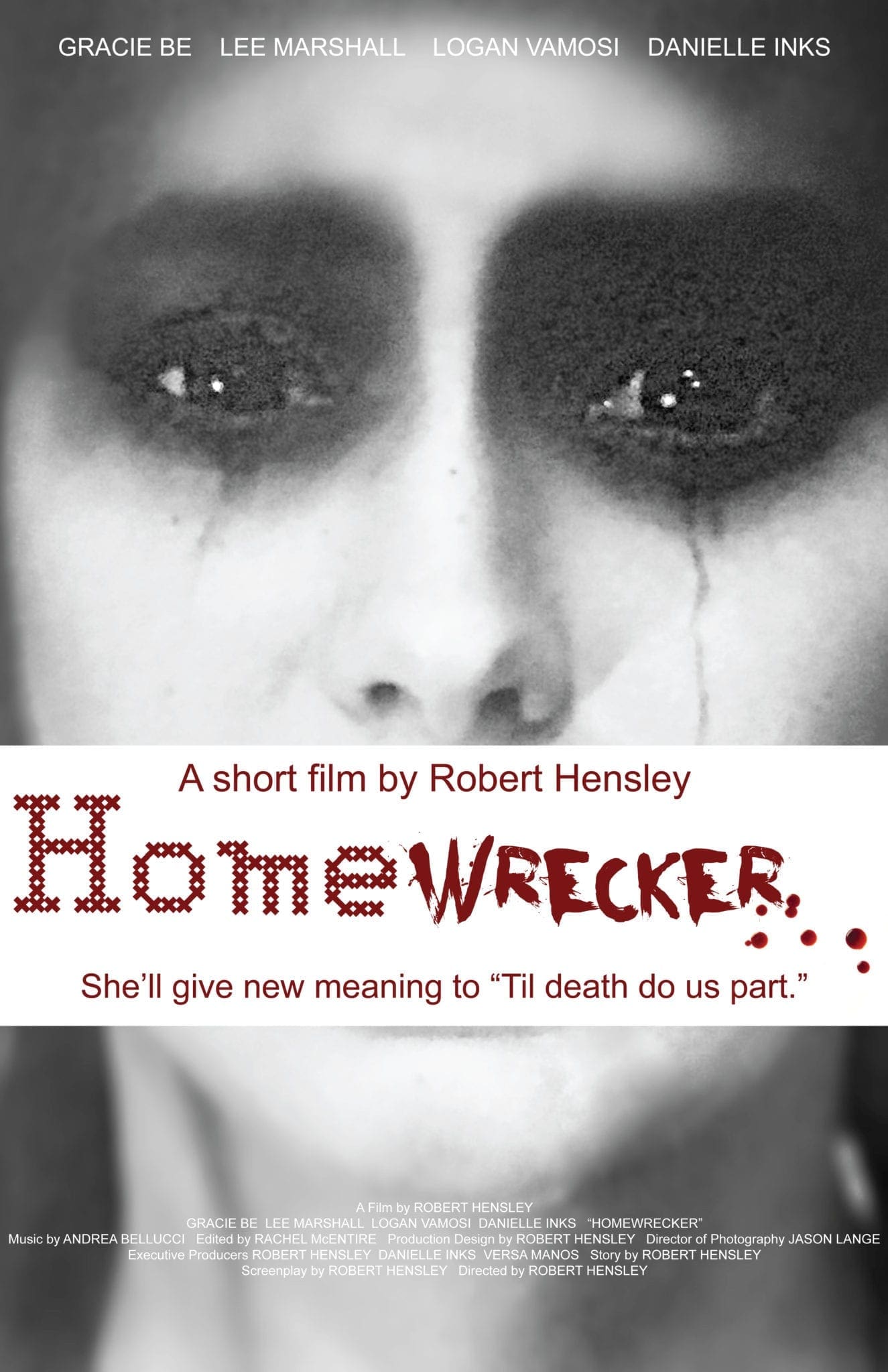 Synopsis:
HOMEWRECKER is a short, ghost story, inspired by the traditional Mexican and Southwestern US fable of 'La Llorona' – sometimes referred to as the "Woman in White" or the "Wailing Woman." It tells the story of Stan, a successful businessman. He's got a nice house, fast car, and a beautiful wife, Rona, but that's not enough. He's also having an affair. When his wife finds out about his infidelity, she is driven to extreme measures and no one is safe as she gives new meaning to "til death do us part."
Director's Statement:
When did horror films become a vehicle for grotesque gore and 'franchisable' maniacs with the weakest of plots barely gluing it all together? Thankfully, filmmakers such as James Wan are producing films which throw back to a more story and character-rich horror genre. This, too, is where I found the inspiration for HOMEWRECKER. A huge fan of filmmakers such as Hitchcock and Carpenter, I set out to create a short film which built up a sense of anticipation. The audience knows something is going on, something is coming, and it all leads up to that reveal. Blood and guts were incidental to the story as a whole. I was inspired by the traditional fable of "La Llorona," also known as the Wailing Woman or Woman in White. There are several variations of the tale, all featuring a beautiful woman who married for money, and kills herself in despair when her husband leaves her for another woman.
In one version, she kills her children in a rage and then takes her own life when she realizes what she's done. In all the various tellings, she comes back and walks the riverside where she drowned and wails for the loss of her children or her marriage. Whoever hears her scream is cursed to die. For HOMEWRECKER, I focused on a failing marriage and a philandering husband. This was the catalyst for Rona to take her own life and her transformation into a vengeful spirit. While "La Llorona" is always connected to water: a stream, a river, or a lake, I chose to consider more domestic uses for water such as bathing, showering, and laundry.
The first horror film I actually had permission to watch was "My Bloody Valentine," which has an infamous laundromat scene. Being a child of the eighties, the horror films I grew up with were R-rated, T&A, boy's club franchises. I also wanted to pay tribute to these movies in some way. Getting permission to film a scene in a laundromat was a start! Nudity was another. However, I made the decision to keep my female talent clothed, and undress the men, turning T&A into C&C (chests and crack). I cast actors who were not afraid to disrobe and appear nude on camera for a vigorous sex scene, which builds along with the drama happening with Rona at home. ​ Finally, the colors, saturation, and tones in the finished film find comparisons to the horror films of the 70's and 80's. Jason Lange, our cinematographer, who lit and shot HOMEWRECKER by himself, created a beautiful visual tribute to the films which inspired me.
Stories From Set:
For all of our planning, we failed to realize the burden of shooting in Palm Springs in the summer. Outside temperatures soared to 118 degrees Fahrenheit, and turning the air conditioning on and off made for a very oppressive set. At the laundromat, we didn't realize the cooling system was on a timer, so when we arrived at midnight, the interior of the location was as warm as the outside, which was still a staggering 103 degrees. We came out of that first day of shooting a little dehydrated, but feeling very accomplished. Luckily, the house location had a quiet cooling system and we could shoot with the air on!
Future Plans:
HOMEWRECKER is being submitted to film festivals. We have just been accepted as an Official Selection of the Direct Monthly Online Film Festival for November 2018.
Website: http://www.homewreckerfilm@weebly.com
Want your film project featured on Local Films? Fill out this form!