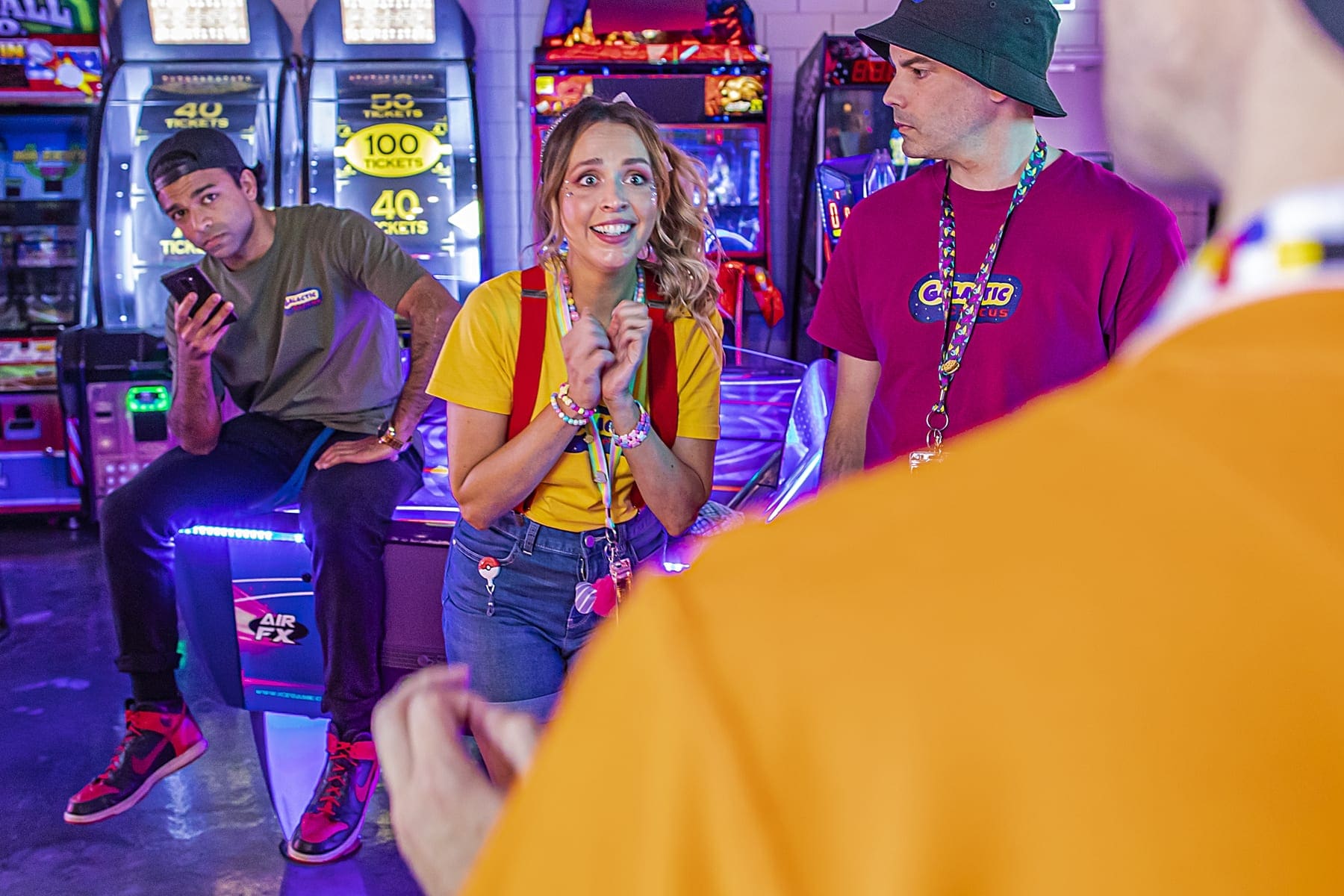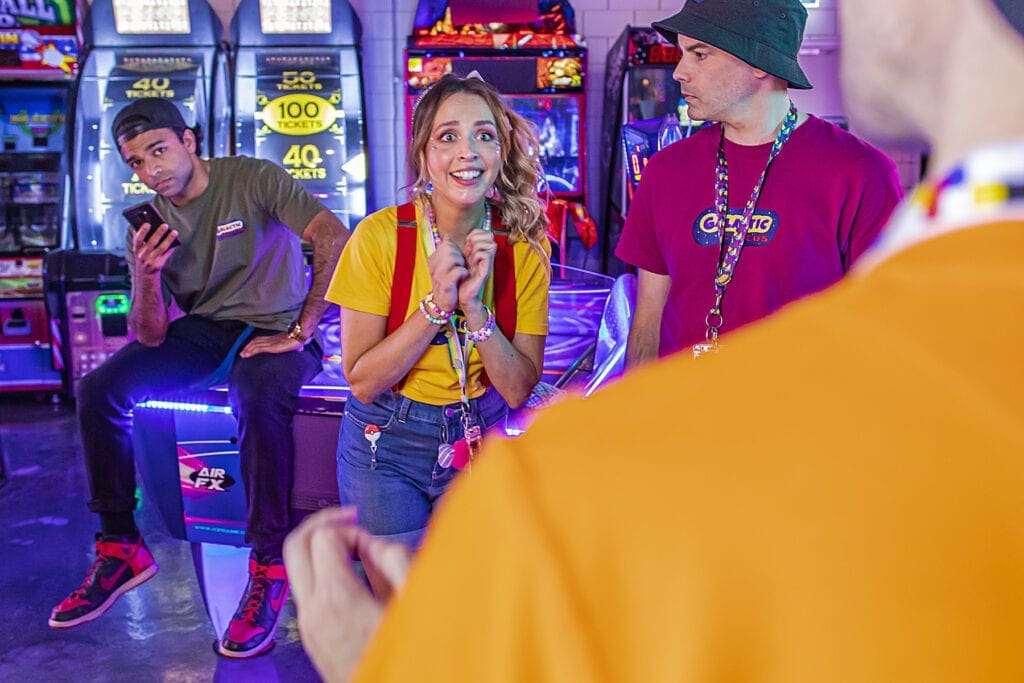 If catchy electronic ditties call you… 
If you have an itch for anything neon…
If you find joy in winning over-priced prizes…
If your favourite games include Space Invaders, Big Buck Hunter or Street Fighter…
…then up-coming, comedy web series "Galactic Circus" might be just what you need to scratch your nostalgia!
Coming to YouTube in late 2021/early 2022, Galactic Circus follows a group of eclectic staff members as they attempt to make something of themselves in their kooky arcade. The series, now in pre-production, will be a cinematic, comedic experience for an online audience.
After closing up for the night, the staff members of Galactic Circus find themselves trapped in their arcade. They soon learn that this is a ploy devised by their immature general manager, Herbert, in an attempt to unite his team. As he watches over them in a make-shift, Saw-like Escape Room, the staff members realise that they're truly in a Time Crisis and that their quickest way out will be to play along with his silly games.
Stacey, a fiercely driven 2IC is weighed down by the numerous OH&S violations, while self-absorbed Madyson struggles with the absence of her phone. Cult-escapee, Gracie, enjoys her first sleep-over party ever, Tom and Beau try to figure out which of them is Herbert's best friend, while Espen, a neurotic NOOB regrets his decision to join the team. Each with their own reasons to escape (or not to), the staff members must attempt to work together if they have any of hope of saving their Big Basses.
Bringing these characters to life, is a talented Australian cast; Dean Gunera (The Resurgence), Kim Ko (Mother Tongue), Sunny Walia (Rage), Felise Morales (A Pencil to the Jugular), Jesse Butler (Zarephath), Lara Deam (Friends, Foes & Fireworks) and Tyler Jenkins (Somebody Else).
Created by director-duo Taysha McFarland and Tristan Braines, they hope to bring laugh-out-loud and heart-felt moments to life in this ensemble comedy. With stories inspired from their experiences working in Melbourne's busiest games arcade, the series will be relatable to anyone who has worked within customer service, hospitality and the gaming realm.
Galactic Circus will be produced by Melbourne-based production company, Toprock Productions alongside executive producer, Cindy Pritchard (Book Week). Principal Photography, will begin in the second half of 2021, with Director of Photography, Samuel Vella (Dumb Ways to Die).  
If you'd like to help support this production, their merchandise store offers world-wide shipping on some funky, T-shirts and hoodies. Profits from your purchase will go towards funding of the first season.
Photography by Melville Quilliam (Fotografi Group), featuring Sunny Walia, Lara Deam and Jesse Butler.
Website: http://galacticcircus.deco-apparel.com
Want your film project featured on Local Films? Fill out this form!