"This is what women do. They help each other," actress Mindy Sterling (Austin Powers: The Spy Who Shagged Me, Drop Dead Gorgeous) told writer/director Rebecca Shapiro after reading her comedy short, FOR MURIEL. Ms. Sterling plays Helen, a woman of a certain age who has come up with a plan to solve her friend Muriel's money problems. She and her friend Elaine, played by Concetta Tomei (Deep Impact, Providence, China Beach), enlist their younger friend, Jenn (Rakefet Abergel – Superbad, Just Go With It), to help them rob a bank. Since none of them has ever robbed a bank, they each suggest a different movie bank robbery to model theirs on and imagine themselves playing it out.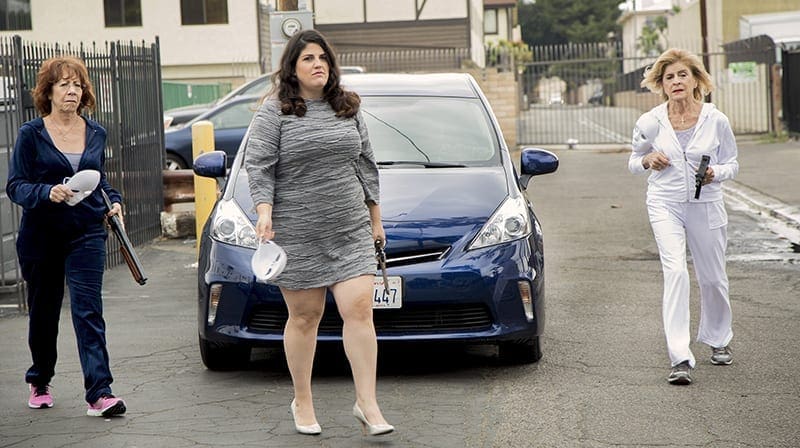 This film is Ms. Shapiro's narrative directorial debut and is inspired by a true story. Well, sort of. "Like the story that Jenn tells to Jason, I was in an exercise class, and when we were told by the instructor to 'Do whatever you want,' an older woman twirled past me and said, 'I want to rob a bank,'"she says. "I was so caught off guard, I did not ask her if I heard her correctly, and then the class kept going. And when the class ended, I lost her. I never saw her after that, so I just kept wondering why she would say that and if she ever did it." Ms. Shapiro kept thinking about it until the news of the day gave her a reason why an older woman might do something like this. "I was watching the confirmation hearing of now Treasury Secretary, Steven Mnuchin, and they explained a lot of his money came from aggressively foreclosing on reverse mortgages, in effect throwing widows from their homes, out onto the street. I knew then I had the reason for our ladies to take matters into their own hands," she says.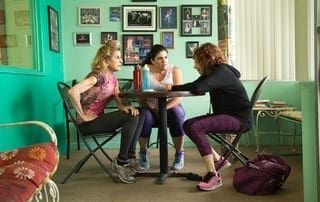 Besides taking the audience on a fun journey, it poses several questions. What is your favorite bank robbery movie? What would you be willing to do to help a friend? What are Jenn and Jason waiting for? The award winning short is screening at several festivals between now and the end of the year.
It is screening at the Fort Lauderdale International Film Festival on November 3 and 5, 2018. They are part of the "Girls will be Girls" block. Tickets can be purchased here:
http://www.fliff.com/whats-playing/?festival=fliff
Then, at the Chicago Comedy Film Festival on Saturday, November 10, 2018. Tickets can be purchased at:
https://www.eventbrite.com/e/chi-comedy-film-fest-women-of-the-wild-300pm-tickets-50802093429
**Key Members get 50% off their ticket purchases for the Chicago Comedy Film Festival**
Finally, at the Santa Monica International Film Festival on Saturday, December 8, 2018. Details will be available at:
Website: http://noteventhechair.com
Trailer: https://vimeo.com/251409681
Want your film project featured on Local Films? Fill out this form!