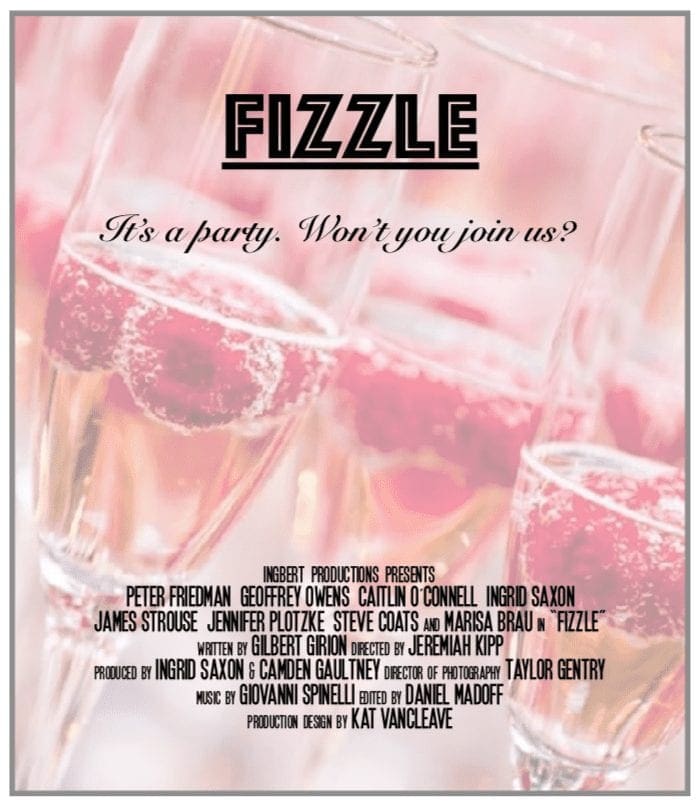 Fizzle is a party! Won't you join us? Written by Gilbert Girion, Fizzle tells the story of eight strangers navigating the comic, usually hidden, but here revealed social landscape of a party. We are proud to announce that we have completed principal photography and are now in post production. We are excited to complete Fizzle and share this unique film with the world!
People at the party include our hostess, "The Woman Who Feels Pinned" (to the wall), anxiously watching as her guests pour, or is it "dribble" in?  People meet, and talk to each other at the party, or they talk to themselves.  Sometimes they talk to themselves while they're talking to someone else.  Sometimes they talk to us.  They have cravings.  For instance, an irrational need for dip… NOW! The Man Who Bores, does just that.  The Man Who Wasn't Invited, somehow got in, but can't find his way out.  The Woman Who Watches can't get over the feeling that The Man Who Sneezes, or is it The Woman Who Yearns Twice, is looking at her.
We drop in on many encounters where sometimes there is not much conversation, yet still so much is said. And much is revealed in comic ways, tapping into states of being which we recognize in ourselves and others.
This unique story has a long and fantastic history! Originally written as a play, playwright Gilbert Girion was invited by Robert Woodruff at The Bay Area Playwrights Festival to attend an Invited Writers Workshop led by Sam Shepard.  The following year, Girion was invited back to the festival as Playwright-In-Residence.  In addition to Palm 90, which he co-wrote, he wrote and directed Fizzle.
Fizzle was later done at The West Bank Cafe in New York  City.  It received critical acclaim and was brought back by popular demand. Among the other very fine actors, Julianne Moore had the distinguished role of Simply The Maid.
Enter Ingrid Saxon (Producer, Actress, Singer & Vocal Instructor) who is very familiar with Girion's work and who longed to produce Fizzle as a film. She tapped the incredible Jeremiah Kipp to direct the film and put together a phenomenal production team. She then assembled a stellar cast of actors that began with Peter Friedman, Geoffrey Owens, Caitlin O'Connell and James Strouse. Following that she enlisted Steve Coats, Marisa Brau, Jennifer Plotzke and herself to round out the cast! Then in the winter of 2018, nestled in a cozy little speakeasy in New York City's East Village, Fizzle was immortalized on film!
We had a wildly successful shoot and are so excited to put all the pieces together in the shape of a film! We are now in the final stages of post production and are excited to put the finishing touches on this, so we are raising money to help see it through to the finish line. We truly believe in the power of this film and know that once it's completed, it's going to be a beautiful, unique story. Audiences are going to love this funny, relatable story and we can't wait to share it with the world!
Website: gofundme.com/fizzle
Want your film project featured on Local Films? Fill out this form!