Chris Dates. We all know the feeling you get before your first date, or any date for that matter. Excitement, sweaty pits, exhilaration, unease, but more importantly you get ready to put the best version of yourself forward. Or if we're being real, the version of yourself you think your date will like the most. This is where Chris Dates finds its humour.
Chris Dates is a comedy about a young man deciding which guy he's going to be on his first online date. And more importantly, the short comedy plays on the fact that Chris, a young black man, is essentially deciding which 'kind' of black guy he's going to be for his new romantic interest who happens to be an American-sweetheart-type white woman. In this comedy, we watch as Chris decides whether he's going to be the stereotypical cool, chilled black guy, the type who can adopt any type of slang and make it sound slick as hell. Or, the super woke brother, the one who likes to passionately discuss the very real topics of inequality and oppression, but perhaps not always at the best moments. Or finally, the 'white' black guy. We all know this guy, he tends to indulge in things people don't typically associate with 'blackness', like Top 40 dance club tunes and well, veganism.
The comedy short which laughs at existing stereotypes was inspired by the HBO Comedy series created and starring Issa Rae. Issa's character (of the same name) is a young black woman who frequently gives herself mirror pep talks, usually in the form of rap. And in one particular episode, following a recent breakup, she is looking to get back out there and plans to go out clubbing that night. In the scene, she goes through four different personas. The first persona is the no BS, overly aggressive date, the second is more of the alluring, mysterious type. The third persona, is what can only be described as the 'white party girl' who dances on tables yelling 'shots, shots, shots'! (As Issa demonstrates). And last but not least, the fourth one is the sophisticated, cultured woman, whom Issa decorates with a Downtown Abbey accent. I found the scene extremely entertaining, as we can all relate to having different versions of ourselves, and more specifically I relate to being a young black woman, knowing that certain aspects of my personality, or the things I enjoy, can place me in a category very quickly. Chris Dates pokes fun at this idea!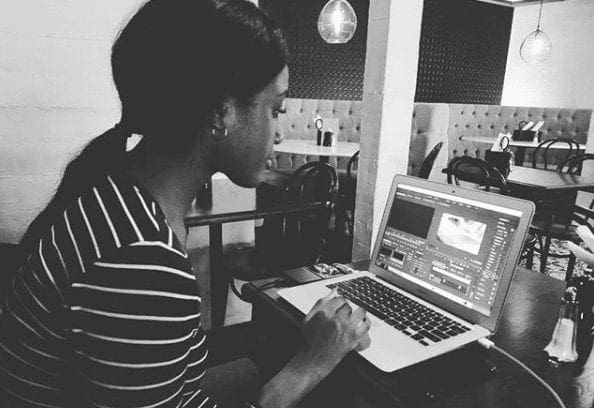 The project came about during my time studying abroad in New Mexico from 2017/2018. My Directing professor at the time, set us the '100 words challenge', a competition in which we were allowed to create any kind of film as long as it used 100 words exactly, inspired by the film festival of the same name. I remember it was the last project of the year, and we'd all completed our big final projects for that class, so we were not in a working mindset! However, as the deadline drew closer, I thought to myself what could I make that was short, funny and really made each word count? That's when Issa Rae's mirror montage came to mind.
I called up my friend Chris (who is actually called Chris) and asked him if he was down, because he's very naturally funny and from the moment I met him, I knew I had to cast him in something! And I also called up my friend, fellow studying abroad and neighbor, to ask her whether she would lend me a few hours of her time and record the sound for me, to which she agreed. And we created Chris Dates.
I hope everyone enjoys the film, and although I won't have much chance to film further shorts with Chris as he lives in New Mexico and I'm back in my home city of London, I will be creating more narrative shorts and a web series which follows the same themes of looking at the awkwardness and anxieties of everyday life, and more specifically, my work will aim to present both the specific and universal experiences of black women and men in modern day. Olivia Ababio Livin' It Productions.
Want your film project featured on Local Films? Fill out this form!