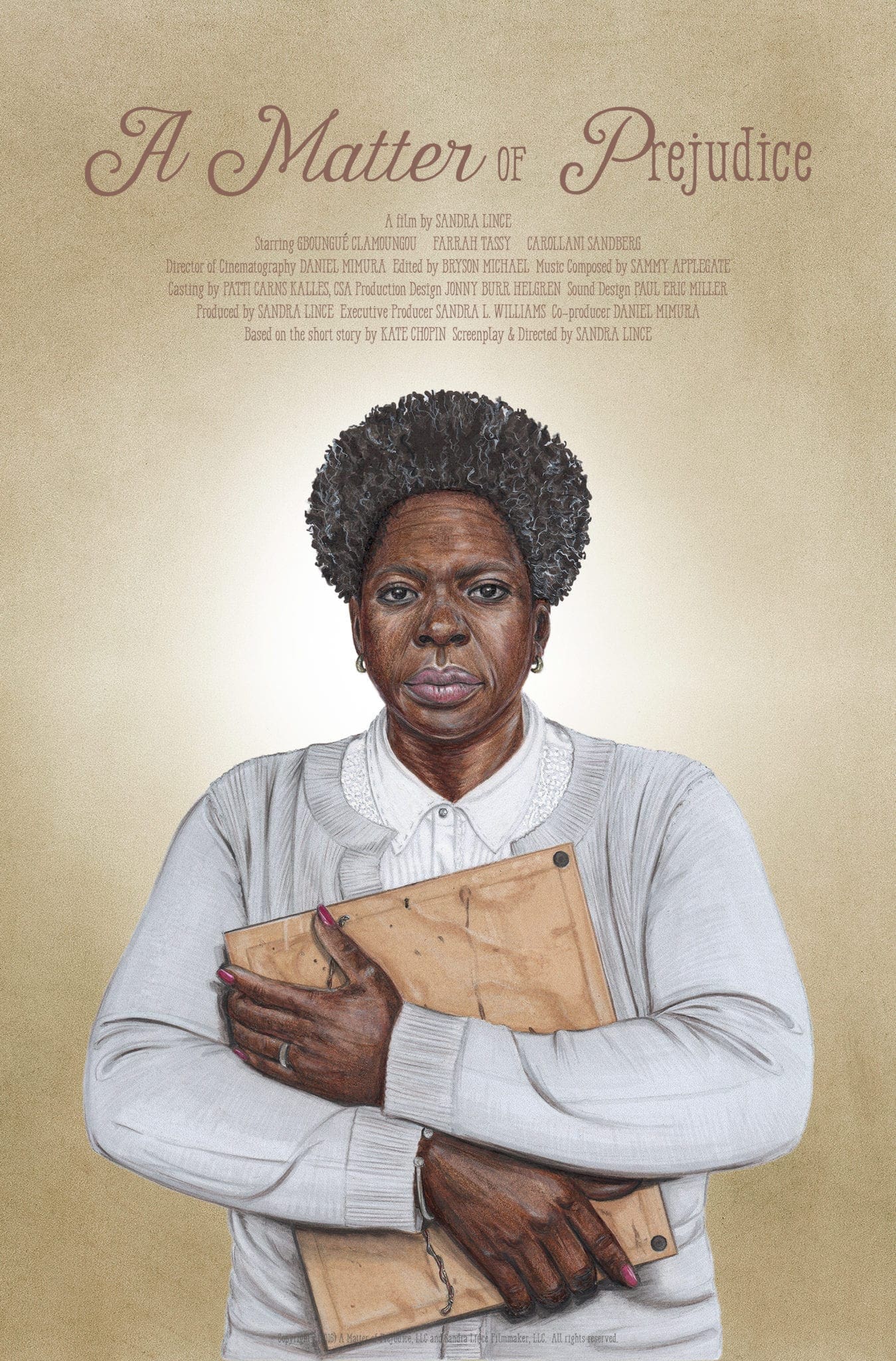 "A Matter of Prejudice" takes a modern twist on an 1893 short story by Kate Chopin and explores the beauty of love and acceptance when an aging woman finally overcomes her prejudice. Because of her religious beliefs and fears, Madame Carmabeau hasn't spoken to her gay son in years even though it pains her. Her mindset begins to change after a chance encounter with a sick little girl during her grandson's seventh birthday party.
Relevant in today's society and sensitive to the struggles of the LGBTQ community, this award-winning short film shows what can happen when we simply open our hearts. Writer, producer, and first-time director, Sandra Lince, began "A Matter of Prejudice" as an exercise in adaptation. Chopin's short story was a personal favorite from college, and she was excited to modernize the tale. Her screenplay went on to become a quarter-finalist in the 2014 Circus Road Screenplay Contest, the 2015 ScreenCraft Short Screenplay contest, and a semi-finalist in the 2015 Reel Writer's Screenwriting Competition. Filmed over the course of five days in February 2016, "A Matter of Prejudice" features beautiful historic Seattle locations, local talent & crew, and a lovely original score created by Sammy Applegate and her team of composers from the Pacific Northwest Film Scoring Program.
"A Matter of Prejudice," premiered March 2017 at the 20th Annual George Lindsey UNA Film Festival bringing home the Gold Lion for Best Professional Narrative Short. It went on to complete a successful festival run screening around the globe from Florence, Alabama, to Cannes, France, Lagos, Nigeria, and Chicago, Illinois. AMoP is now available to stream and download on Google Play, iTunes and Amazon Prime Video.
Director Bio: Sandra Lince A resident of Seattle, Sandra is a proud mother of two adult children and grandmother to one. Her path to filmmaking began first with a Cum Laude B.A. in English – Creative Writing from the University of Washington in 2005, followed by full immersion into the film industry. Taking on several roles to learn the art of filmmaking hands on, she worked as a local crew member on a variety of productions including feature and short films, commercials and corporate video. In 2014-2015, Sandra produced & co-wrote the award-winning 48-Hour Film Project shorts: "Chime," "The Graveyard Shift," and "Dead in the Water." "The Graveyard Shift" went on to have a successful festival run garnering several awards including Best Film, Best Editing, and Best Cinematography. This critically acclaimed short completed a two-year distribution deal with IndieFlix in December 2017.
Sandra's directorial debut, "A Matter of Prejudice," premiered March 2017 at the 20th Annual George Lindsey UNA Film Festival bringing home the Gold Lion for Best Professional Narrative. AMoP went on to screen at festivals around the globe and is now streaming on Amazon Prime, iTunes, and GooglePlay. Sandra is currently working on her first original feature screenplay titled, "Gidget Love and the Adventure Through Time."
Website: https://www.amazon.com/Matter-Prejudice-Gboungu-Clamoungou/dp/B07FJZG878/
https://play.google.com/store/movies/details/A_Matter_of_Prejudice?id=YlVRb-o_s0A
https://itunes.apple.com/us/movie/a-matter-of-prejudice/id1414742846
Want your film project featured on Local Films? Fill out this form!