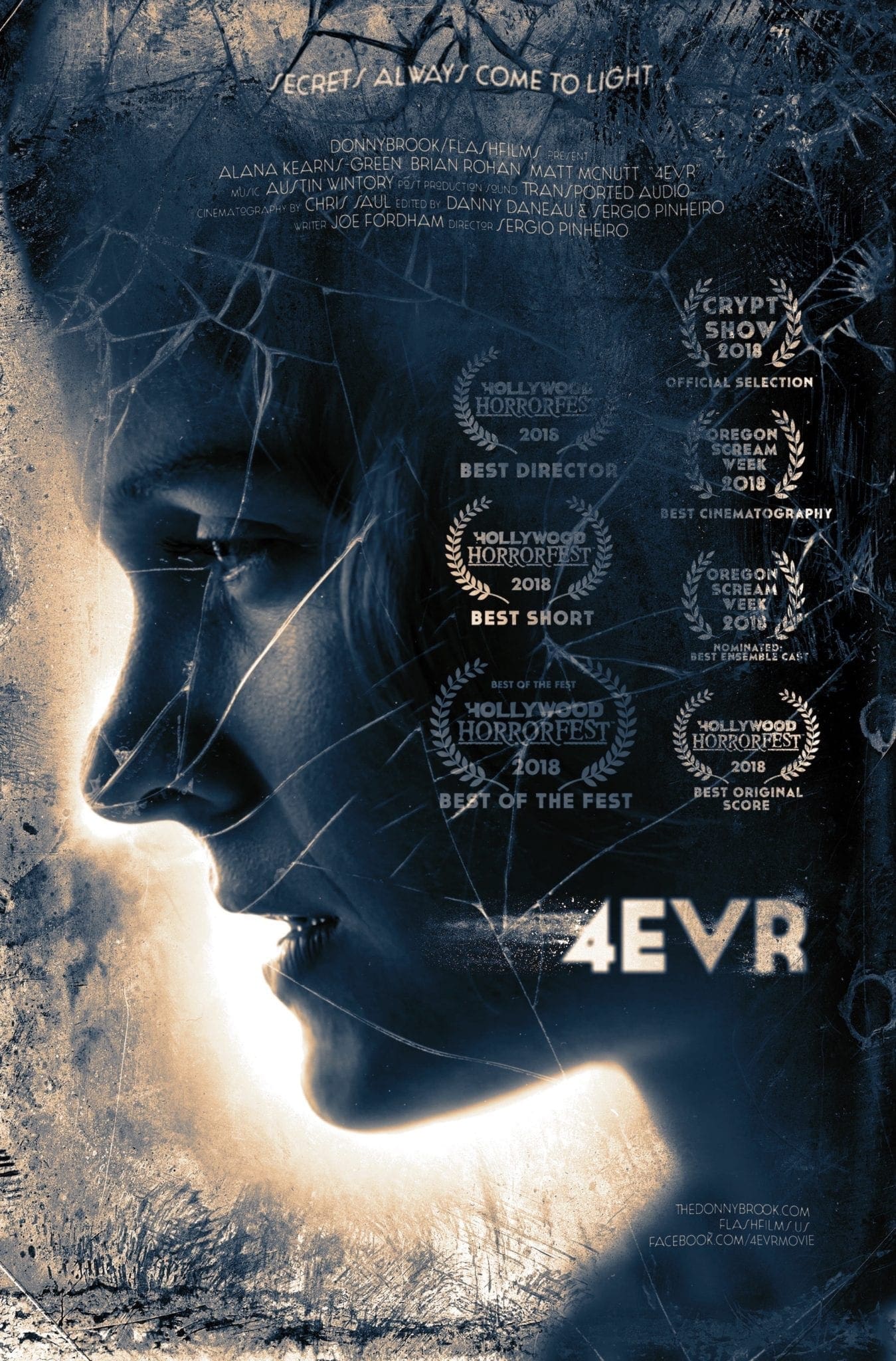 NORTH HOLLYWOOD, CA – Co-producers Joe Fordham and Sergio Pinheiro are pleased to announce their short film "4EVR" has been nominated for Best Director and Best Cinematography at KaPow Intergalactic Film Festival, screening at Laemmle's NoHo7 this Sunday, 9/30, and again on Thursday, 10/04.
"4EVR" centers around the character of Ginny (Alana Kearns-Green) who, dealing with grief from the loss of her brother, arrives home where dark secrets resurface in unexpected ways.
Filmmakers Joe Fordham and Sergio Pinheiro met on the film festival circuit in 2008. Joe's film "The Glitch" was a science fiction film, while Sergio's film "The Procedure" was a horror thriller. Both shared a fascination for the macabre, and the fringes of the genre. As kindred cinematic spirits, Joe and Sergio became friends and combined their talents to create a new short film project with aspirations of chills and psychological intrigue.
"4EVR" draws on influences from such masterpieces of horror as Polanski's "Repulsion" and Aronofsky's "Black Swan," as an atmospheric piece that explores how grief can destroy a fragile psyche. The final product is a clockwork puzzle box that challenges its viewers to participate in an imaginative journey, while enjoying the thrills and fascinations of suspense.
The visually arresting short previously competed at the Cryptshow Festival in Barcelona and Oregon Scream Week, where it was nominated for Best Ensemble Cast and won Best Cinematography for DP Chris Saul. In July, "4EVR" swept top honors at the 2018 Hollywood Horrorfest, seizing top honors for Best Original Score for BAFTA award-wining composer Austin Wintory, Best Director (Pinheiro), Best Short Film and 'Best of the Fest.'
Future screenings include the 'Cannes of horror,' Nightmares Film Festival in Columbus, Ohio, 10/09.
Want your film project featured on Local Films? Fill out this form!