We recently got the chance to do a review on a piece of gear from SmallRig, the camera cage for Sony a7II/a7RII/a7SII cameras. For the purposes of this review, we used an a7SII. Along with this cage, we were given a 15mm rod clamp with cold shoe and 15mm carbon fiber rod 150mm (6″). We decided to hand it off for testing to a local cinematographer, Luke Hylands. Be sure to check out more filmmaking articles and for those of you who are cast and crew, sign up to get your free FilmLocal account!
SmallRig Camera Cage (Sony a7S II) – A Review By Luke Hylands
I am going to be writing this review based on a cinematographer's perspective. Over the past couple weeks, I've used this gear on short film projects and other small productions.
You may have noticed that many videographers have their cameras mounted in cages, this opens up the possibility to mount multiple accessories to and around the camera itself, all in one unit. A top shoe doesn't have to be the only place to mount a light, mic, or even monitor. This also gives your camera protection from any bumps or scratches when shooting out in the field.
The downside, however, is that your camera can become quite cluttered with cables/wires. This can also cause you to lose access to certain buttons as well.
Let's get down to specifics, these days I am shooting with a Sony a7S II. SmallRig offers pretty much every style of cage you could ask for. I, however, settled on the camera cage for Sony a7II/a7RII/a7SII model number 1982. Designed by Tracy Joy and very lightweight at 0.992 pounds, this cage completely covers the whole body of the a7S II and continues to give you full access to all buttons (even custom 1 & 2). Simply slide into the threaded 1/4-20 screw on the bottom and you're good to go. You'll also notice that this cage covers almost every inch with 1/4-20 and 3/8th screw holes, along with two 3/8th with an Arri pin lock. It doesn't stop there though. This cage offers an additional shoe mount, nato rail options, metabones adapter pins, an Arri style rosette adapter, and even an HDMI cable clamp. Now that's a nice touch.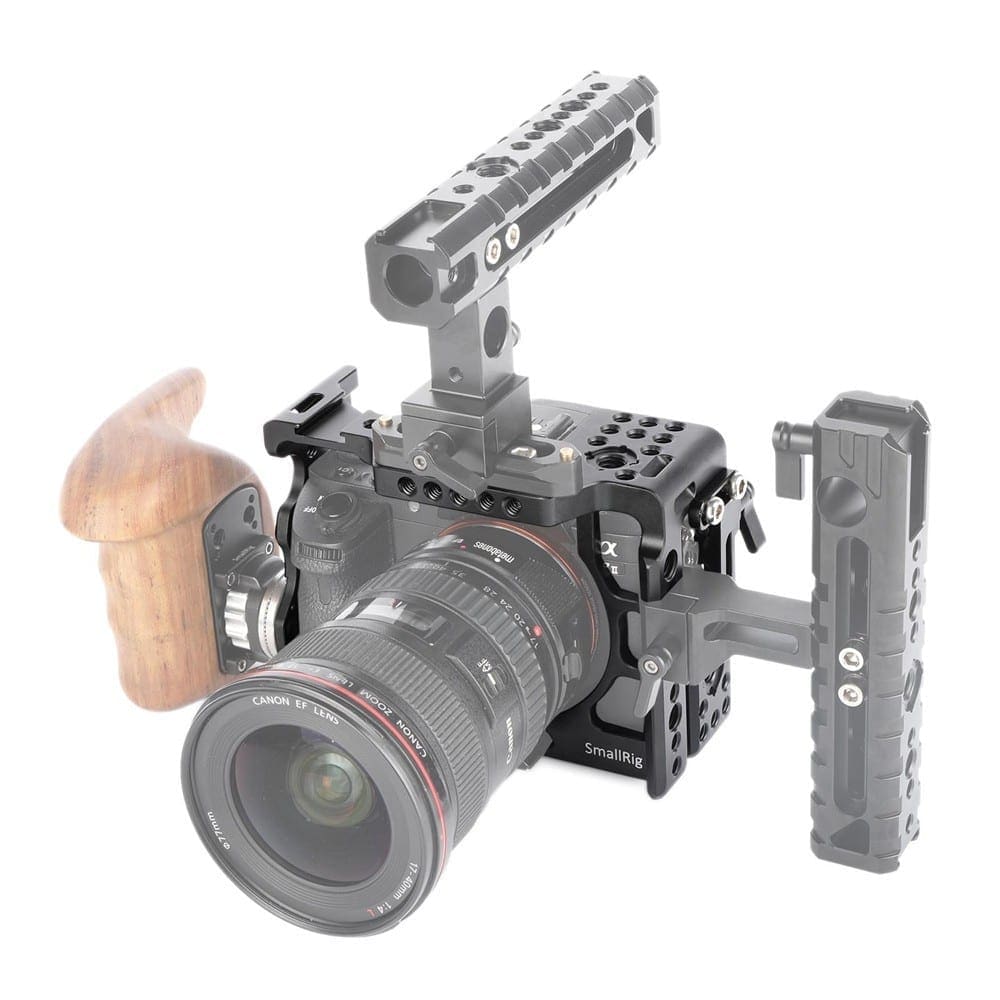 Shooting Day
When I go out shooting by myself or with a group of people I always like to be prepared. I don't want to be digging through bags looking for little cables and extra stuff that is just time-consuming and takes away from my shooting time. My first experience heading into the field with this SmallRig cage was amazing. There's nothing worse than finally getting out there and realizing that you forgot something or something isn't correct with your build. I don't have to worry about that with this cage. I am able to mount my monitor, external mic, and my rosette style handle in under a minute and the camera never looked better. Simply throw it in the bag fully built, and it's ready to go first thing on the day.
Most Sony A7 users will agree that trying to film smooth video without any type of handle is near impossible (it's a really small camera!). That's why the rosette adapter to me is by far the most impressive aspect of this cage. You'll notice right away how much more stable your build is overall with the handle installed. I even noticed some of my shots were much more stable and level when taking them to post.
Most DSLR cameras these days (including the Sony a7 series) require micro HDMI or very small micro USB ports. These ports, although small, can be the worst for reliability when dealing with natural environments. When running my external monitor on the camera, it requires two separate small cables that can easily be ripped out or broken if tugged slightly by one thing or another. The included HDMI clamp is a lifesaver, not only does it protect your cables when in a run and gun handheld setup, but I always make sure I have it on when using a Ronin or any other stabilizer when cable management is critical.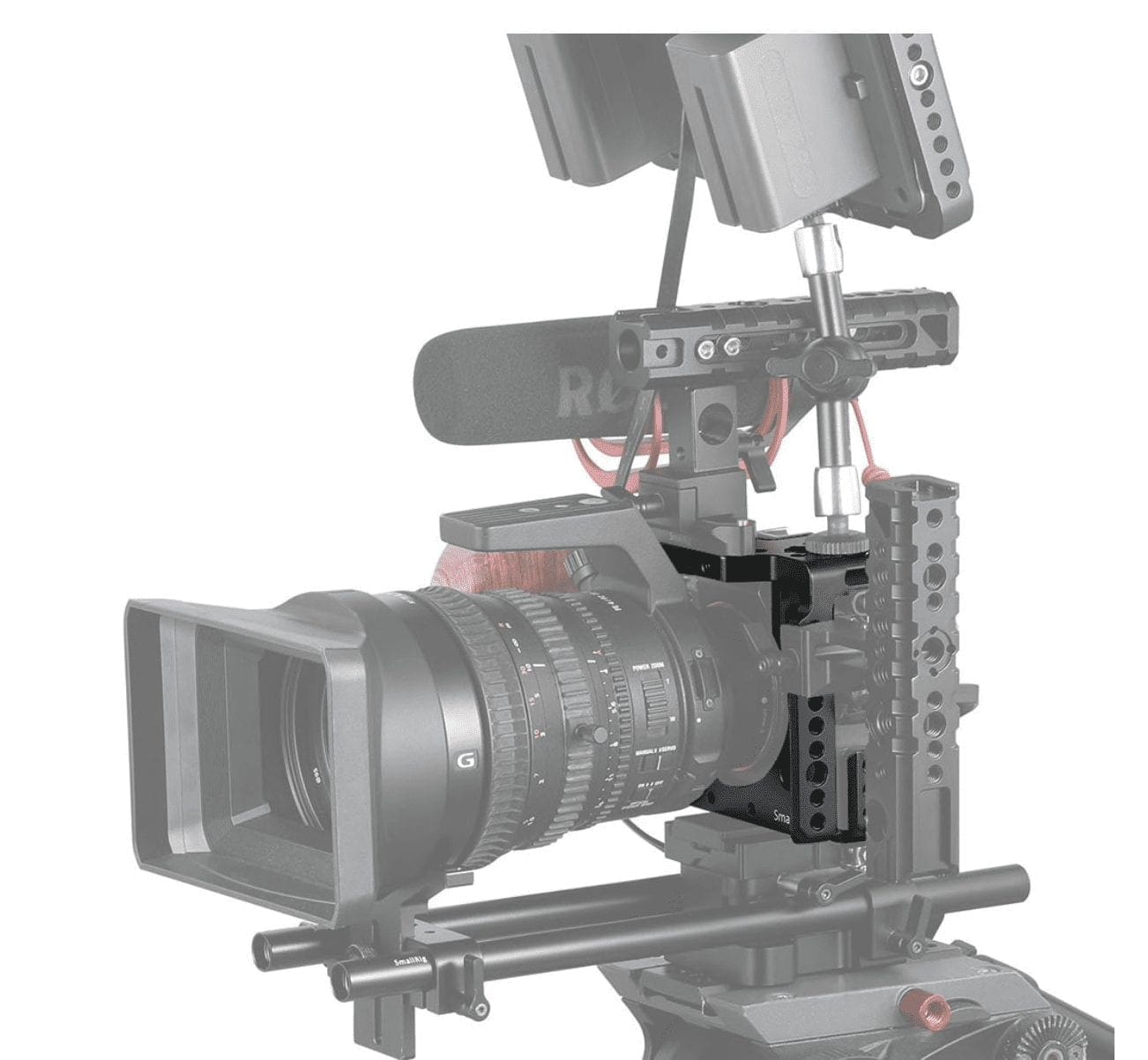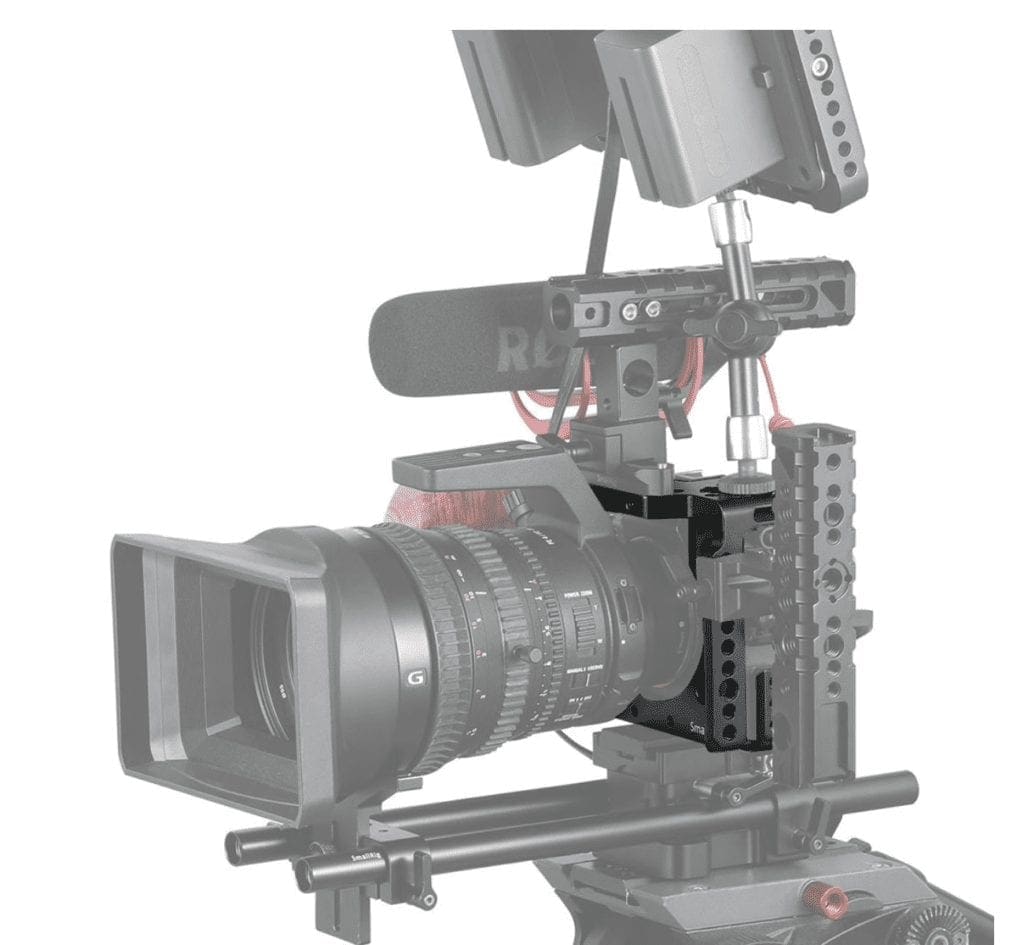 Final Verdict
Overall, after using this cage in the field a handful of times, it's easy to say that I will not be going back, or switching to another brand for cages at all. Smallrig has nailed it on this one. One thing that they offer which I really love and respect being a filmmaker, is the fact that they are constantly innovating and improving past and present accessories to make them better for you in the field. Industry professionals to rookies are able to achieve its full potential without any prior knowledge. If you are looking for a cage or any accessory for your DSLR look no further. I would highly recommend SmallRig to any other cinematographer or videographer out there!