Our friends at Geekoto sent us their tripod for review, and we are thrilled that they did! The lightweight travel tripod that they sent us is called the AT24Pro and Spoiler Alert: it's fantastic! This is bar none the best tripod I've ever used for travelling, and no one can match the price point. This tripod comes in as a low-cost solution at $79 USD, and with the quality that comes with it, that truly is remarkable. Typically when we review gear, we bring it onto a variety of different sets. However, this time, we decided to take it out into the elements to see how it does in poor weather conditions and rough terrain. Since it's primarily a travel tripod, we thought this would be fitting. Read on to find out our in-depth thoughts on how it worked for us. Be sure to check out more filmmaking articles and for those of you who are cast and crew, sign up to get your free FilmLocal account!
Our Review
AT24Pro Package Contents:
Tripod
Ball Head
Travel Bag
Velvet Ball Head Pouch
Specifications:
Adjustable Height: 19 – 77″
Weight Capacity: 17.6 lbs ~ 8 kg
Carrying Length: 19″
Tripod Weight: 3.4 lbs ~ 1.5 kg
Price: $79 USD
Usually, at this part of the review, we mention what the package is missing just so you are aware. There's no need for that here. It comes with everything you need and expect from a tripod package. Again, all for a meager price, considering the performance you get out of it. The velvet cover and travel bag are a nice added touch.
This tripod truly is terrific for travelling. It's lightweight, easy to set up, durable, and versatile. Not to mention it's very slick looking. If I were basing this review on looks alone, it would be the best tripod in the world.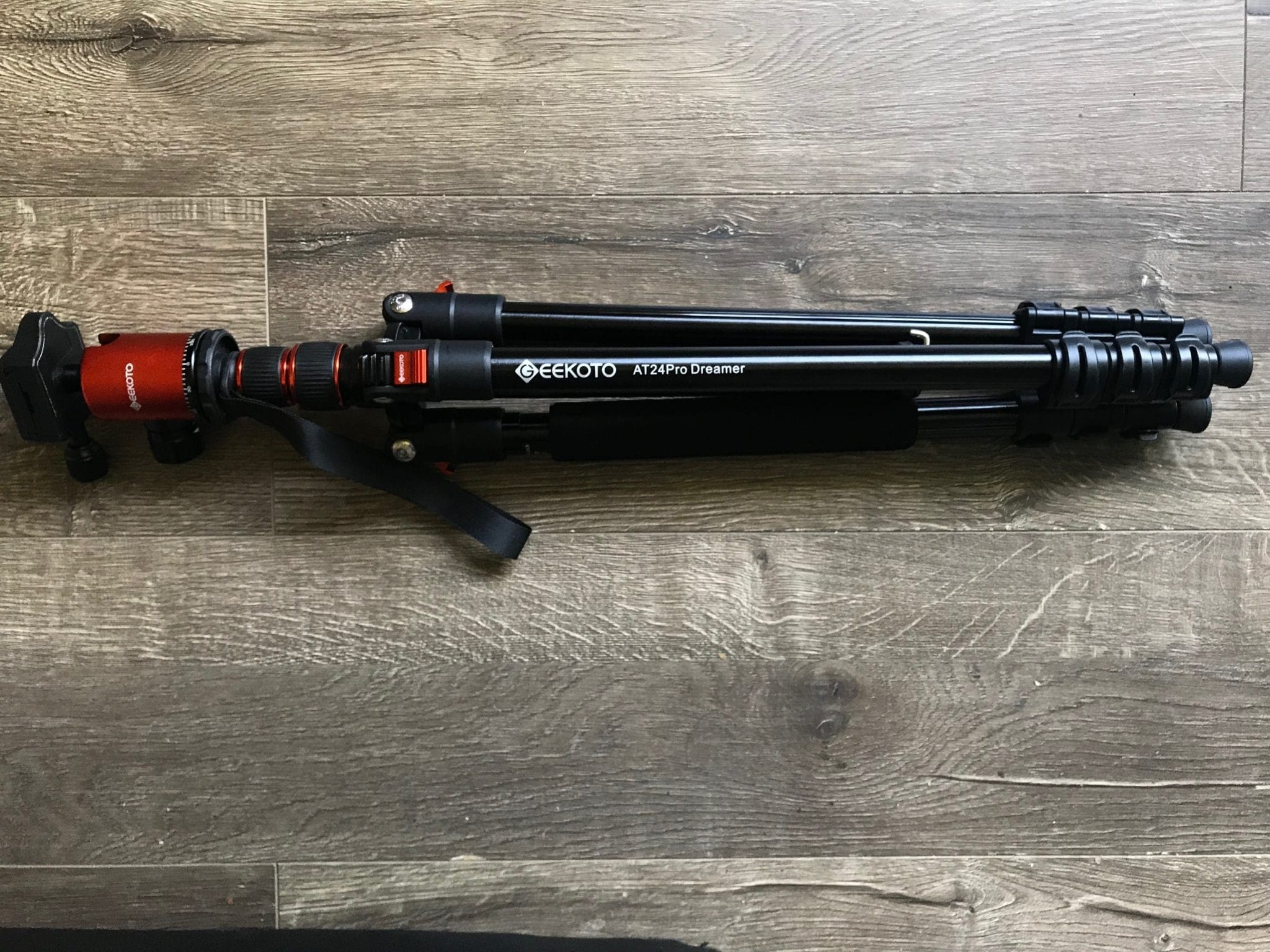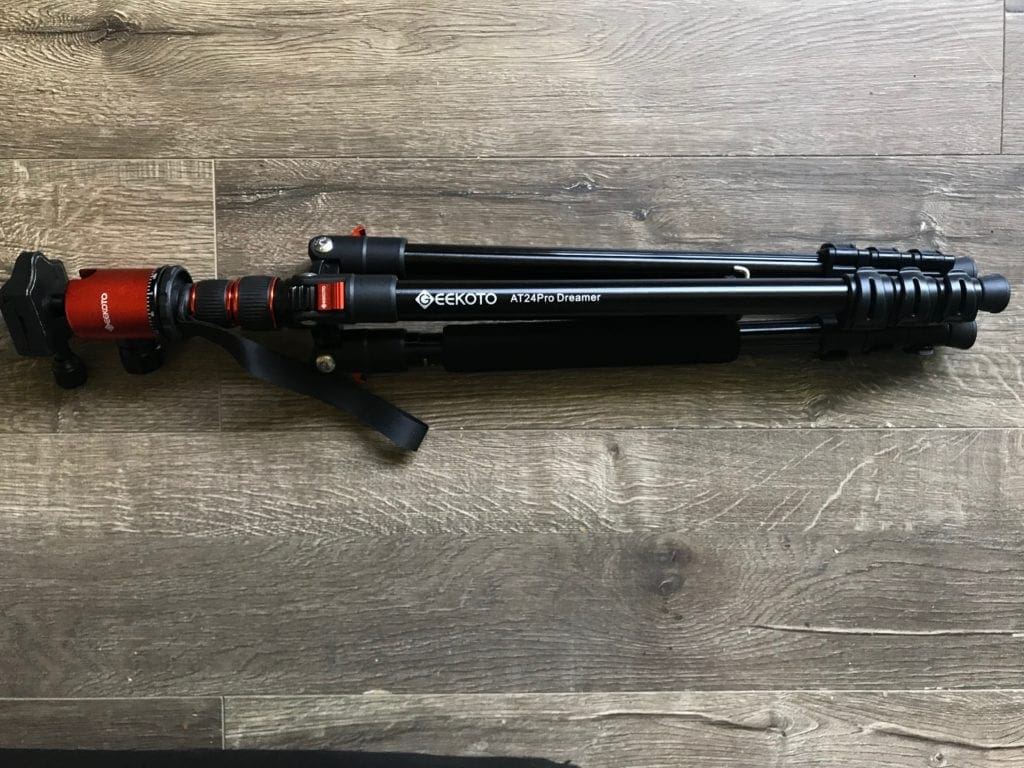 Stability
Technically speaking, it's one of the lightest tripods I've ever dealt with before. At only 3.4 lbs, you'd be hard-pressed to find something similar. Now, with light tripods, you're typically sacrificing stability. However, that's not the case with the AT24Pro. We tested out this tripod on a rocky shoreline on a windy day, and it worked perfectly. Now, I wouldn't recommend you put a decked out Alexa camera onto this, but it will do the trick for any DSLR or mirrorless cameras that you use. Even with a decent-sized lens. Probably best not to throw a massive zoom on it though. Geekoto included a convenient hook on the bottom of the tripod so that you can add some extra weight to stabilize it when in shooting mode.
Legs
The legs can be adjusted to a variety of angles up to 90 degrees. At the bottom of each leg is rubber to prevent them from slipping on any surface that it gets placed on and also protects delicate flooring from damage. It also comes with 3 clasps to lock and unlock the ability to extend the legs. That's how you're able to get this tripod up to 77″. Which is insane considering it can be as small as 19″. I've never used a tripod that can go that high. While these clasps are better than the typical twist release that many low-cost tripods have, this is unfortunately where the only flaw comes in. The clasps are made of plastic, and while I've only had this tripod for a month, I fear that they will eventually be the first thing to break. Especially if used in freezing temperatures. However, that's a minor flaw ($79!!). A redeeming quality is that these clasps hold on tight. There won't be any grip slip in the legs when they're engaged and when they're loose, the legs extend quickly and smoothly. Plus, one of the legs actually has a surprise inside. You're able to unscrew and detach this leg to use as a monopod by attaching the ball head. This is great if you want to go even more lightweight or need a multi-talented hiking pol
Final Touches
The ball head rotates smoothly and allows you to get many different angles of shots. Again, when you tighten it, it holds very well. An added convenience is the inclusion of a bubble level. Now you won't have to carry one around in your pocket! All in all, if a shot gets ruined, it won't be because of this tripod.
Another trick this tripod can pull off is going completely inverted. This is very useful for two different reasons. One, it makes it even more compact than it was before, especially if you take the ball head off. Two, you can easily get low angle shots without having to deal with a hi-hat or putting your camera on the ground. It's even possible to add some vertical movement to the shot by loosening off the extension.
Verdict
I can't recommend this tripod enough. It does an incredible job at what it wanted to accomplish, and then some. Again, don't expect to be putting a fully build Alexa on this, but as a travel tripod, you'll have a hard time finding something better for a similar price. There will be no angle that you can't achieve with this piece of gear. It's durable, ridiculously lightweight, stable, and easy to use. What more could you ask for?
If you have any questions, let us know if the comments and we'll be sure to answer them!